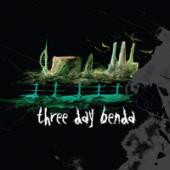 Three Day Benda
Sounds of the Suburbs LP
Seeing Three Day Benda live (as I did at their recent album launch party at the Wedgewood Rooms) is always a lot of fun. The performances regularly contain more energy than the other bands combined and they seem to genuinely enjoy what they do. The release of their debut album entitled 'Sounds of the Suburbs' is an opportunity to dissect the music separately from the stage show, something I have to do after enjoying their live shows so much.
First of all I think it's important to define the genre we're dealing with here. It isn't punk, it isn't rock, it isn't ska, but more of an amalgamation of these and several other sub-genres. Rather than emulating their heroes as many up and coming bands tend to do, Three Day Benda have managed to create their own brand of ska-punk-rock that is more interesting than ska and less pretentious than emo whilst harnessing the best elements of both. The title track, 'The Understanding', and 'MRV' demonstrate TDB's rock foundations that underpin every track on the album, with the hooks and grooves provided by the brass section.
The sleazy porn soundtrack anthem 'Conscious, But No Conscience' has a brass riff that is used minimally but to great effect. In great contrast to this is the infectious hook in 'Elements of Confusion', supported by a fantastically atmospheric bridge section that changes the feel of the tune before a chorus that verges on fist-clenching epic-ness. Live favourite 'Matter of Decision' is a skanktastic track seemingly specifically designed to get people dancing around at the end of a gig, or in this case their living room.
These examples serve to illustrate where Three Day Benda's strengths lie. By combining several different genres TDB are able to construct songs that aren't bound by conventions of one specific genre, resulting in an album that is surprisingly diverse for what could be construed at first glance as 'just another ska band'.
What separates them from this potential tarring is the ethic that seems to drive the band, namely the mission to create songs that sound good above all else. Nowhere on this CD can we hear an individual attempting to emulate his heroes or going overboard with intricate fills on his instrument. Each member of the band does what is required and nothing more, which makes for a product greater than the sum of its parts.
Not that the parts are all that bad either, as the flawless performances on the recording demonstrate. The Old Blacksmiths studio staff have done a good job of mixing too, with the overall sound of the album deserving of the distribution deal attached to it. It all sounds great from start to finish, both in terms of sound quality and song writing.
As with the album launch party performance, there really is no bad track on 'Sounds of the Suburbs' and there is plenty here to appeal to fans of any of the aforementioned genres. Finally I have company in my CD collection for the Mad Caddies' 'Quality Soft Core'. The question is 'which is better?' I honestly couldn't choose right now.
Guest article from Matt S.
Written by Guest Writers on
Between 2003 and 2009, [the-mag] had regular contributors from music correspondents covering their local scene. You'll find them all in the guest writers section. The specific writer is mentioned at the bottom of each article.
Discover More Music