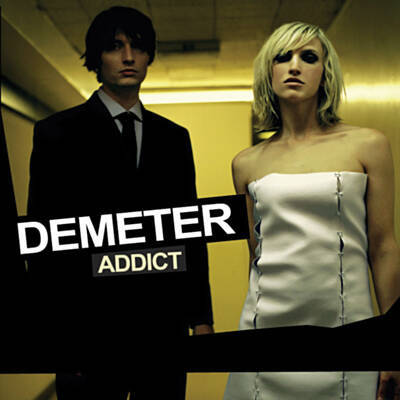 Demeter
Addict
The heart longs to give Demeter a rave review, as then Anna Mercedes might like me and my little world would be at least three-quarters filled up. The head says 'enough with the icy smack vixen clichés already!'
'Addict' does indeed have a cocky riff up front, but at heart it's only a Garbage parody, and they can do that quite well enough themselves these days, thank you. Desperately lazy lyrics too, steeped in the language of addiction without wit or twist. If you want a black-hearted freakoid diva who sings like you think hard drugs might sound, Beth from the Mekano Set is a much better bet.
'Venus' is, by contrast, just a guitarist's finger, a chord-change or two if you like, from being properly beautiful. The rich, glammy guitars and swelling production provide the framework for something a little more exciting, but Demeter lack the nerve to break out of their standard minor-key chilliness.
'Under Your Spell' merely does for Portishead what 'Addict' did for Shirley and co, which is somehow more offensive.
That's Demeter, somewhere between goth, rock, and trip-hop, without a map. Their timidity is the biggest annoyance, showing off all the signifiers of darkness and agony with none of the substance.
Watch Demeter – Addict
Written by McLaughlin on
Stuart McLaughlin was a regular write for [the-mag] and was frequently seen in live music venues in search of great new music.
Discover More Music