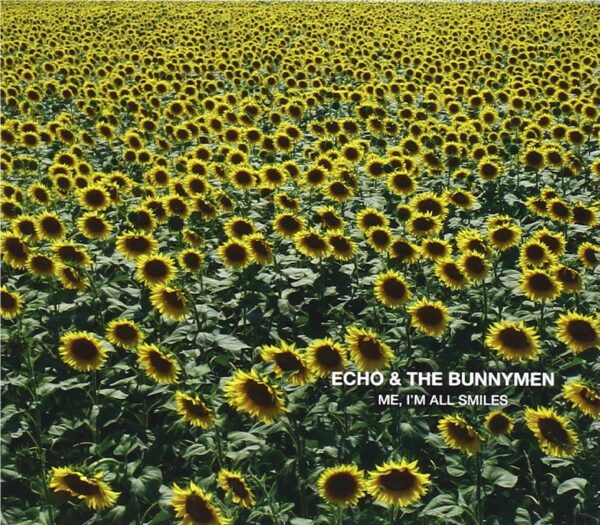 Echo and the Bunnymen
Me, I'm All Smiles LP
Fair enough – I can hear the question before you even say it out loud; Why on earth are we listening to Echo and the Bunnymen? You've heard of them. I've heard of them. Everyone has heard of them. There's a good reason for that though – they've been around since 1978 and they've pumped out a surprising number of very, very good songs.
Now the reason we're gracing our pages with such an established act (other than the fact that we're flattered to receive their LP in the first place) is that this is a indie release – just like most of their other records, which were released on labels such as WEA, Rhino, Plastic Head, Let Them Eat Vinyl, Cooking Vinyl, and now Snapper.
Personally, I've heard 'Nothing Lasts Forever' and I reckon it's a decent enough track. I've also heard 'The Killing Moon' thanks to its proliferation in films and an obscure cover on Pavement's 'Major League' EP and it's fair to say we've all head their version of 'People are Strange', which was your major opening sequence for The Lost Boys. Other than that, I'm afraid to say that I've been underexposed to this band to the max.
That's all changing now though, as this live-recording has got me hook, line and sinker. I don't even know what you use a sinker for in fishing, but if it's a weighty and substantial device, then there is definitely scope for a comparison with this record and don't get me started on hooks – of which this may well be the tackle shop!
If you're a fan of the Bunnymen, you probably already own this. In fact, you definitely do else you aren't really a fan I imagine. However, this is also the opportunity to introduce yourself to an utterly legendary band. It worked for me.
Written by Smith on
Stuart 'Saur' Smith was a prolific writer for The Mag throughout the magazine's lifetime. He combined a day job of temporary office jobs in London with a nightlife of trawling the capital's music venues looking for talent. As well as writing about music, he was a session musician who featured on a number of singles in the 90s. Today, Stuart is a Chief Writer for Phonotonal.
Discover More Music