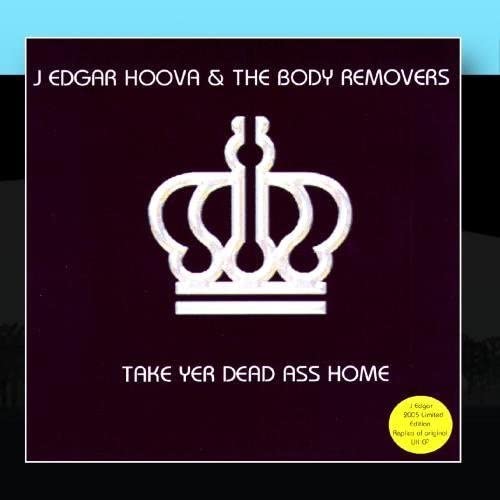 J Edgar Hoova and The Body Removers
Take Yer Dead Ass Home
Err…the press release goes a little something like this… After recording 'This is the Shit', Roger's lead guitarist J Edgar Hoova launched into an uncontrollable rage after being told the band would now only play heavy funk. You see Mr Hoova is a sensitive lad and seeing his guitar driven motorway of rock being dug up around him, he decided to destroy everything in the studio, sparing only the master tapes which he forced a band mate to swallow thus making him lose consciousness (and, upon extraction, giving a full rounded meaning to the passing of 'This is the Shit').
Holding the tapes to ransom and threatening even more destruction with a couple of well chiselled Uzi's, Edgar managed to convince a few of the Rogers to join him on his quest for the Majesty of Rock. This CD is a small snippet of the 'violent, angry and thoroughly depraved [US] tour' that followed… apparently.
Opening with a hail of drums and the sort of riff that takes paint off walls, 'Take Your Dead Ass Home' welcomes you to J Edgar's world like a well aimed slap in the chops. It's Motorhead meets The Ramones with the sort of female backing singing that conjures images of leather hot pants and bad ass attitudes. Musically this is tight, vocally, courtesy of the ladies, its even tighter and lyrically, well lets just say if you haven't cracked a smile by the end of this CD then a little jaunt down the doctors for some happy pills would be in order.
'Where Are We Tonight' arrives with the cheers of 30,000 fans, a la GnR's 'Live – Like A Suicide' (check your history books for that one) and proceeds to rip things up with another punk tinged rocker. The girls are on good form and the arrival of a brass/synth section for a little blast here and there adds to the fun. However, it's Mr Hoova's SG which gets top billing here spewing forth a turbo injected rhythm which pauses for no man.
With no time for our 30,000 crowd to even squeeze in the quickest of piss breaks 'Release The Hounds' is upon them in another rock n roll guitar fury with twisted lyrics. However, consider it a build up to perhaps the best tune on this disc, 'I'm Going To Hell'
Kicking off by blatantly nicking the riff from Elton's 'Saturday Nights Alright For Fighting', 'Going To Hell' quickly morphs into a distorted 'Song 2' before letting rip on its own highway to hell. Again the girls are on top of things carrying the sort of chorus that you'd have trouble getting out of your head even with the aid of a DIY lobotomy kit – 'Hats off honey I have to inform, I've been lying since the day I was born. Hats off honey I have to tell, I know I'm bad and I'm going to hell' – argh! It just won't go away!
Edgar's vocals are also a perfect compliment to his female backline, sneering all the way through and giving off nothing but serious (well nearly) attitude. Musically the phrase 'tight as a gnat's chuff' would not be out place here as the guitars, bass and drums all work their magic stabbing and bruising their way through the track.
Finishing off with 'Don't F*ck With Roger' (which suspiciously starts like an old Kiss record), its fair to say you almost feel the urge for a lie down after its all over, such is energy blasting at you from the speakers.
If you like all action rock n roll with a pierced tongue firmly planted in a bruised and battered cheek (e.g. Zodiac Mindwarp, the Darkness etc), then J Edgar Hoova and The Body Removers are your baby.
Rock on and prosper!
Written by Habert on
Pete Habert was sub-editor for The Mag and co-ordinated submissions from the swarm of writers that contributed articles from their local music scenes.
Discover More Music