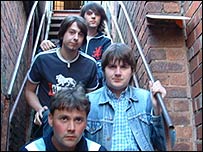 Paisley Riot
Devil Only Knows EP
It's hard to box Paisley Riot into any one category. An energetic four-piece that show clear signs of such a wide range of influences leading to lively, guitar dependant music. They have a great deal of talent and are a welcome distraction from all the wrist-slitting and Satan worshipping that seems to form the foundations of the current music scene.
Similarities to bands like Kings of Leon and Razorlight could give them the added boost of being popular, or is it just one indie band too many?
'Devil Only Knows' is a great track full of life and power. The raw passion of the vocals is nothing but admirable, as long as you can get past the quirky lyrics. Even if you wanted to turn off you couldn't with the catchiness of these vocals – only problem is it's one of those voices you're sure you've heard before.
They've definitely got something right because it only gets better with the second song. The West Midlands quartet belt out some great guitar riffs in 'Crackerjack' with the general vibe of Eurorock. In fact each song on this EP can quite easily stand alone due the amiable differences between bed mates.
It's one of those records you can't really knock because there isn't anything bad about it. The only nagging feeling is wondering if you've heard it all before but Paisley Riot definitely put up a fair fight to prove otherwise with their abundance of energy and passion.
Paisley Riot Articles
Discover More Music