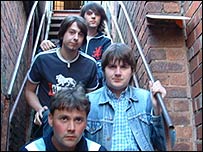 Paisley Riot
Autumn 2006 Demo EP
Paisley Riot are a band you could definitely pick out from the crowd. Sounding like a cross between The Smiths and The Libertines, their influences immediately show through in their music as soon as 'She's A Rollercoaster' starts to play. Catchy lyrics, a touch of Mod Punk / Indie, and a feel-good beat to get you jumping up and down in delight.
Britpop song 'Sound Of The Rhythm' is sung with much content, as it covers bouncy guitar riffs and changing tempos throughout, which many fans will adore with this band. With a unique sound, this song is very addictive and will have you listening for hours with a smile on your face.
'Better Pop' brings out the band's true colours as they have the distinct sound of the Beach Boys in this song. This is definitely fresh and natural and many fans will find themselves knowing all the words by heart. It is almost as if this band could do no wrong to their listeners.
On a final note 'Back Of The Queue' proves its worth of being a single that bands such as Jet and The Coral wish they had released. With lyrics and guitar riffs that make you want to blast out the house and put on non-stop repeat, it will be going round in your head all day long.
Look out kids, The Paisley Riot are coming to invade the Indie scene!
Guest article from Kim L.
Paisley Riot Articles
Written by Guest Writers on
Between 2003 and 2009, [the-mag] had regular contributors from music correspondents covering their local scene. You'll find them all in the guest writers section. The specific writer is mentioned at the bottom of each article.
Discover More Music