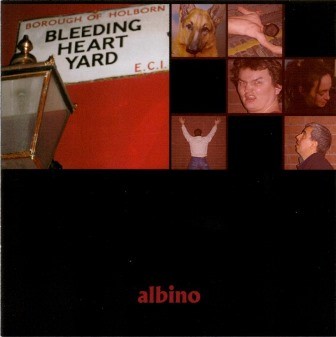 Albino
Bleeding Heart Yard LP
A curio – this little package. Like a musty bottle washed up on the shore from far off climbs, this sounds like it was recorded live in the deep south of the US in a rowdy barroom against a backdrop of much whiskey drinking and table throwing. Eschewing the usual set of references bandied around by a lot of acoustic acts, Albino have clearly been brushing up on their Whiskeytown Records. Which, as far as this reviewer at least is concerned, is a very good thing!
Deploying viscous blues harmonica and beaten acoustic guitars, the band whip up a redneck holler of an album full of country swing, bluegrass stomp, and a deep-fried folk edge to transport the listener away from the rural bliss of the new acoustic movement ( Turin Brakes, King Creosote, etc) and lands them slap bang in the nearest hoedown! Deliciously unique in the UK music scene if you had to name contemporaries – the nearest names that spring to mind would be Nottingham's GRAIN or the ever-fabulous Republic of Loose.
Albino are clearly a very tight set of musicians, all very comfortable with each other and not afraid to take risks and throw a few oddities into the equation. An unashamed sense of fun seems to emanate from every lovingly plucked string as a weathered holler tells tales of wrong doings, broken hearts, and drunken forays in the night.
The dirty lo-fi production employed also offers a deliciously homespun feel as the dustbowl harmonica sweeping from the speakers sucks the listener in, from where rip-roaring bluegrass has full permission to take off and never quite return from orbit!
So something a little different – definitely, a commercial prospect? Not so much but some of the best music never is. For now, I would be scouring t'internet to find out when I can catch these guys live – and if you have any sense, you'll do exactly the same!
Guest article from Ben M.
Written by Guest Writers on
Between 2003 and 2009, [the-mag] had regular contributors from music correspondents covering their local scene. You'll find them all in the guest writers section. The specific writer is mentioned at the bottom of each article.
Discover More Music