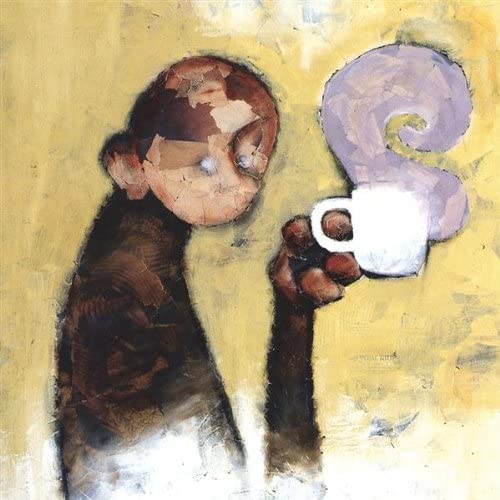 Caroline's Capuchin
For What? LP
The first thing that is funky about this debut album is the cover with its inspired use of coffee beans in the CD casing and the blurry artwork. The coffee beans do shout laid-back and exotic and to be fair this band do manage both. And it throws funky in there too.
Instrumental albums are generally an acquired taste, especially in the jazz/acid, jazz/funk, and fusion territory. Always intriguing is the name given to tracks, it has parallels with naming abstract art, without something definitive like lyrics or actual objects how can you be sure what it is all about? Let's be honest here, titles for both can often border on the pretentious. So it is refreshing that Caroline's Capuchin avoids this trap through the handy intervention of humour, christening tracks with titles such as 'Fresh of Breath Air' and 'Cairo Dead and Breakfast'. Even more refreshingly, yes more refreshing than a north wind in December while wearing nothing but a t-shirt, the titles actually make a bit of sense.
Take 'Cairo Dead and Breakfast'; the closer on this album, it bobs along with wafts of Egypt in the mix. Not The Bangles 'Walk like an Egyptian' style but something altogether more evocative, you can close your eyes and picture wandering through an overcrowded Souk.
The mix of influences is impressive on this album, although some tracks do veer into muzak territory and would be quite at home in an elevator or as on-hold music. Escaping this easy listening fate is track 'Gimme a Mo'Sped' which oozes ska appeal and has a very dirty bass line that reaches way deep down. It also benefits from a curious mid section that bizarrely brings to mind the Pink Panther.
Many of the tracks conjure up visuals, making it easy to imagine them as soundtracks. 'Alina' is one that performs this trick, swooshingly lovely and at the same time strangely tense, making it easy to imagine it setting the scene for two lovers at a crucial point in a film.
Despite the broad palate of influences, this album does fall neatly under the jazz fusion tag, and if it rocks your boat then 'For What?' could be the very thing to stick on your CD player next.
Guest article from Hayley C.
Discover More Music