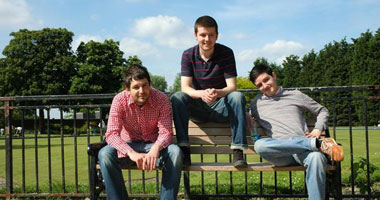 Hot Club De Paris
Live
The Hot Club de Paris experience is definitely one you rarely come across! With a sound combining the sporadic-indie-sexiness of Maximo Park, tour buddies for October 06, and Barbershop quartet harmonies, you really don't know what to do when HCdP grace the stage.
The 'brummie' crowd attending tonight's show watched the band silently with very little reaction, which, any band will know, is incredibly hard to cope with, but HCdP most definitely won them over with their comical wit.
In between songs, there was great banter between the band and some rowdy members of a wax-work like audience, but when the band rock into their songs, after telling a little story behind each one, they ignite! Their sound is immense, and with major tour supports and great media coverage, this band could well be in line to be labelled the next thing!
Future tours include supporting Jamie T followed by a stint with Dirty Pretty Things, not to mention the band's tour with Maximo Park during October. Things are most definitely moving for these three young lads.
Hits and already crowd favourites include the punchy little 'Sometimes it's Better' and the rapid-fire 'Every Every Everything', the North-Western trio are blowing small venues away… now bring on the big-uns!
Guest article from Paul D
Watch Hot Club De Paris – Shipwreck
Written by Guest Writers on
Between 2003 and 2009, [the-mag] had regular contributors from music correspondents covering their local scene. You'll find them all in the guest writers section. The specific writer is mentioned at the bottom of each article.
Discover More Music