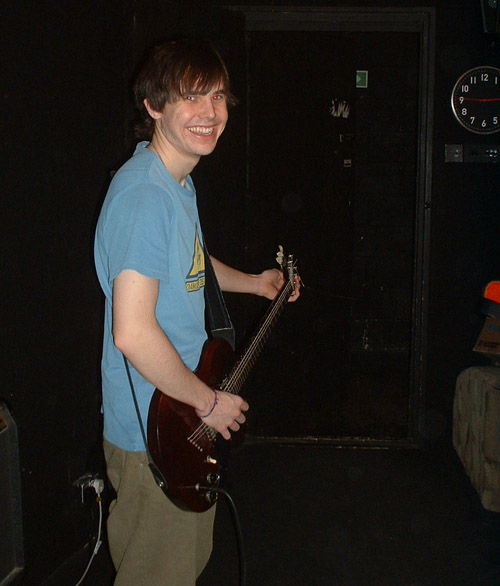 James Consterdine
We May be Tall and Furry
CD Warehouse in Wimbledon is closing. Whether due to the market now being cornered by i-downloads of Timberlake's sexy spleen or because the new rents on Wimbledon's trendy Broadway mean that the only person who can afford to run a shop there is Roman Abramovich, who knows. Maybe that's where they're going to sell all those Ashley Cole autobiographies.
Either way it's a travesty, yet another shard of character gone from another high street. Looking for a hint of silver lining (and some cheap Green on Red CDs in the closing down sale) I found this three-track freebie from one of their mates being touted on the counter.
Mr Consterdine writes quietly eccentric songs in which all is never as it seems. 'Sometimes' starts out as pure whimsy, its nonsense-savant verses – 'Sometimes I demonstrate a lack of self-control / Sometimes when I wake up I look quite like a mole' – punctuated by some increasingly menacing parping from a kazoo and a trumpet. By the end, when James stops singing altogether and hums along to this home-made horn break, it's like being chased through a nightmare by a Mardi Gras voodoo procession. It rates a solid 9/10 on the Sydometer.
'Hunting the Hunters' comes in on some very icy 80s synths and a ringing Bunnymen riff and is, as if you couldn't guess, a pastoral fantasia based around foxes, bunnies and the like tooling up and hiding out in the trees waiting for the Countryside Alliance bods. Not only are they armed with guns, but with insults worthy of Shakespeare – 'you badger-eating country folk!' Lastly, 'Electrical Equipment' is a starkly moving lo-fi ode to a relationship at its end, so well-observed that it had me gulping in painful recognition, until I realised the manipulative little swine was singing about a broken electrical appliance. Brilliant.
Written by McLaughlin on
Stuart McLaughlin was a regular write for [the-mag] and was frequently seen in live music venues in search of great new music.
Discover More Music