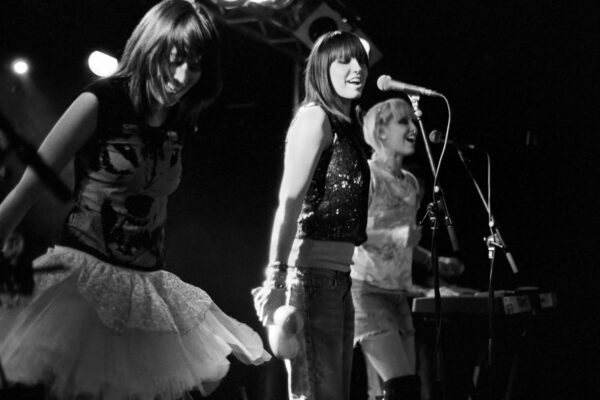 Tilly and the Wall
Live
Sometimes it's good to go to a gig with no preconceptions, so Tilly and the Wall seemed an appealing prospect solely for the lure of tap dancing. After all, there's nothing better than a bit of innovation and sure, maybe someone will copy them now, but I can't name another band who use tap shoes in place of drums.
It was clear from the beginning that the band love performing, which always makes for a lively show, and the sheer stamina with which they keep up their lively, upbeat set is impressive. Equally, their sound, an off-kilter folksy affair, which doesn't really seem to fit in to any particular popular genre, is well played and that's what matters.
Some tracks are stronger than others, with 'Brave Days' and 'Rainbows in the Dark' being the most memorable, In parts, lead singer Neely's voice does become a little grating, perhaps due to the fact that the band sound so implausibly buoyant throughout, with fixed grins to match, to the point in which you may question the sincerity of their act. Yet they sound so far from a little room in Southampton that there is something appealing about their charming folk-pop, and as I overheard someone remark, 'They're just so cute', which is true, they certainly instil a certain feel good factor and just look like they really thrive on being on stage.
It's refreshing, anyhow, to see a female-led group wherein harmonies and individual talents are perfectly matched and in which they are brave enough to do something a little different.
Guest article from Ellie H.
Written by Guest Writers on
Between 2003 and 2009, [the-mag] had regular contributors from music correspondents covering their local scene. You'll find them all in the guest writers section. The specific writer is mentioned at the bottom of each article.
Discover More Music