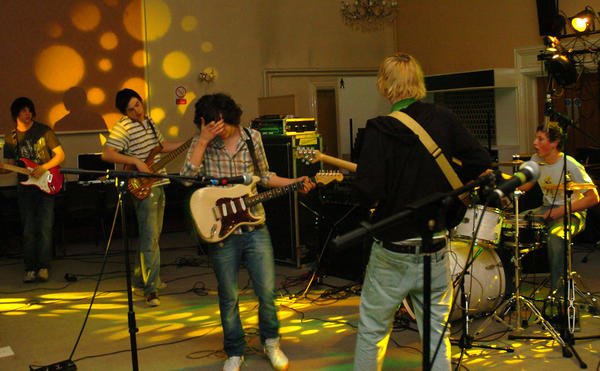 Drive Like I Do
Live (Mendoza)
As any student knows, you don't go out in a big city on a Friday or Saturday night as these are the only times that the real people get to go out and the prices are hiked up just for them. Also, it's usually chav central. Herein lies the problem: we live in Manchester, it's a Friday, we're restless. The solution? Dry Bar – always a hive of new music and a great place to catch a couple of bands when you're bored. So off we trot.
I'm reliably informed, by what must be a band member's girlfriend, kitted out in band t-shirt and handing out flyers (somewhat uncomfortably, bless her) that the first band up tonight are Mendoza.
The band are energetic right from the off, as are most bands at a hometown gig, and they've got the right idea in terms of song construction, but there's something not quite right. I just can't settle down and listen, because the band are so out of time that I get agitated. Both guitarists are good, the singer is passable, the bassist is… well, a bassist, but the drummer… I get the feeling he's sat down at the kit and thought it was easy, so played more complex beats not realising that you need to get the simple rhythm perfect before you can move on. As a result, he's speeding up, slowing down and missing beats all over the shop, putting the singer in an awkward position when he's nodding along and has to stop to wait until the drummer gets back in time. And everyone notices.
The upshot of this is that Mendoza sound disjointed, with too much going on in every song. If they go back a step, simplify their music, practice until they become tighter, and then unleash their Rage-Against-meets-Incubus sound, they might just be great. It's just time and patience guys.
Next up, and our last band of the night, are another home-grown crew, Drive Like I Do. This is clearly the band that the legendary Tim Healy of Auf Wiedersehen Pet fame is here to see, along with his chick, Denise from Corrie, and a post gig name check tells me that the singer's name is in fact Matt Healy. Son? Nephew? Who knows, but this random sighting made my night!
I have to admit to being a bit apprehensive as the singer went straight into spaz mode, at times flailing about so much we couldn't hear his vocals, but I feel this was to compensate for the rest of the band's lack of charisma. Having knocked over his mic stand he kind of settled down and after that you just couldn't help but like them. Having two guitarists as well as the singer on an electro-acoustic meant that their sound was PHATT, but they also played off against each other so well that it didn't just sound like a mess of noise.
Song by song, the band members loosened up and this made them a million times better. The most appealing aspect of their between-song banter was that they took their fuck-ups and problems with good humour – they know they're not U2 just yet.
Their set kept on building with the quality of songs and confidence of the performers, ending with such a crescendo of talent that I'm forced to describe them as a band to watch – and their best song 'We Are The Street Fighters' as A Song You Must Download. Acoustic guitar intro kicking into emo/powerpop greatness? You can't say no.
Drive Like I Do certainly had us in the palms of their hands tonight. Promising, charismatic and just a little bit fun, they're definitely worth checking out.
Guest article from Heather P.
Written by Guest Writers on
Between 2003 and 2009, [the-mag] had regular contributors from music correspondents covering their local scene. You'll find them all in the guest writers section. The specific writer is mentioned at the bottom of each article.
Discover More Music