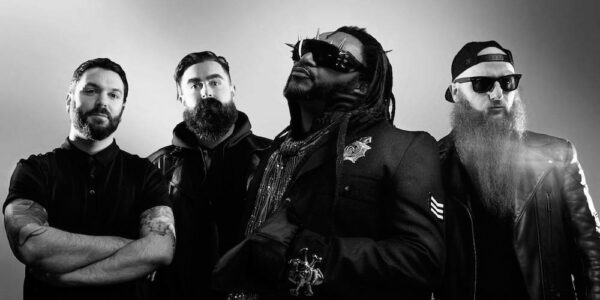 Skindred
Live (Beat Takeshi / Instill / Amoki)
The Joiners has long been established as the best venue Southampton has to offer, no questions asked. However, this may have been due to the fact that no decent touring bands have turned their attention to The Brook in recent years.
It's normally the home to such greats as Tony Cristie, Ron Sexsmith, and Robbing Williams. Nothing against this lot, but such a great venue deserves more attention from the local 'young 'uns'. Having seen Skindred before at Truck Festival, it seemed a real possibility that they could break The Brook with their 'bully boy tic-tacs' etc.
Before this though there is the little issue of support acts. First up are Instill, whom I miss due to a very long queue to get in, where I meet the only bouncer I have ever encountered who is actually trying to make things easier for the punters. He sorted out tickets and got us all in quickly, without smashing a single skull on the curb. Nice one.
Beat Takeshi are the first band I see and, while they have some neat little hardcore riffs and as such it is generally epic emo, its same old, same old. The epitome of being average. Hey, I like that line! Any emo or post-hardcore bands need a title for a song or album feel free to steal that one. Just remember to big me up in your blurb type thing.

Next up are the ever-present Amoki who actually sound a lot better in the slightly larger space of The Brook than they do in their usual haunt of The Joiners.
Unfortunately the music is just as uninspired as it has been every other time I've sat through their set, despite the vocal harmonies coming through quite well tonight. It really makes me wonder just how much longer these guys will be willing to keep plugging on. Bring back Dilutral I say.
As Skindred emerge from the little door at the back of the stage it's clear tonight's audience see this lot as some sort of martyr to heavy music, and I'd have to say I concur. As rap metal goes, they are the kings; and they perform as if every song is an opportunity to put this beyond a doubt. Despite being over 4 years old, everything off debut album Babylon sounds as lively and hard-hitting as it ever did – mainly down to Benji's iconic voice that flips effortlessly between metal growl and playful reggae chat.
Skindred are masters of playing the crowd, teasing us with opening riffs of old favourites before starting a different tune, or telling us all a little story about the origin of pit fave 'Pressure'. There are new tunes, most of which a bare minority recognizes, but Skindred aren't ones to let that bother them. There is no 'listen to our new stuff' arrogance here, and when the band members clearly enjoy the old stuff just as much as the crowd do there's no need for it.
One of metal's seminal acts for sure. Long live Skindred, and all who follow them.
Guest article from Matt S.
Written by Guest Writers on
Between 2003 and 2009, [the-mag] had regular contributors from music correspondents covering their local scene. You'll find them all in the guest writers section. The specific writer is mentioned at the bottom of each article.
Discover More Music