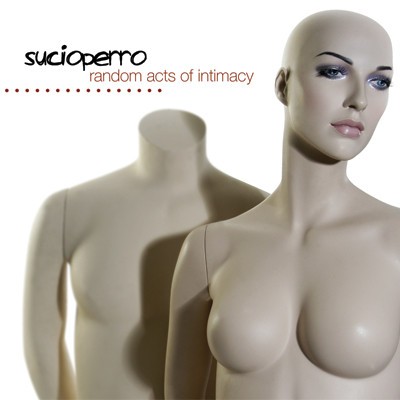 Sucioperro
Random Acts of Intimacy LP
There must be something in the water down in Ayr. Now that's a line from a Glaswegian that invariably ends up in a joke that delivers a punch line that will also reference the film 'Deliverance' but in this instance, it's meant as a positive comment.
Sucioperro are the band under the spotlight here, but they share a hometown with Biffy Clyro and Drive By Argument, so perhaps the place associated most with Rabbie Burns is becoming a hotbed for angsty Scots-rock.
This debut album doesn't waste any time and it comes out kicking and screaming from the opener, 'The Crushing of The Little People'. There is the sense of cleverness and calculation in the music that is coming through more and more these days but that's not a bad thing. If bands are spending more time on their craft, it should be encouraged and Sucioperro consequently manage to sound vastly experienced.
The intro riff of 'Grace and Out of Me' gives the impression that the track is going to explode through your speakers but at the vital moment, pulls back and allows the chirpy (yet still seemingly pained) vocals plenty of space to weave – as style that occurs a lot throughout the record. At times the opportunity to really push on and pulverise is held back, which creates a tension for later, and that is exactly what happens on the title track 'Random Acts of Intimacy'. With its delicate intro and early stages giving way to a doom-laded thunderous attack and muffled screams, it makes perfect sense of the bands earlier restraint. By holding back initially, when the hit finally kicks in, the impact is all the much better for it. It also allows the remaining tracks a sense of freedom, which is noticeable on the guitars which seem to find a dancier element (not as in techno but as in Franz Ferdinand getting girls dancing type of vein) and the drums which become even more venomous.
In case you are wondering, the band indicate that their name should be pronounced 'sooch-ee-oh-perro' (which certainly clears that up for this writer) but don't let that put you off checking them out. It's an angsty and ballsy record but one that adds plenty of shades and sounds to round out the whole package. There is probably a musical genre about at the moment that this band could fit into rather neatly but it's almost a dirty word these days, so lets not bracket the band into anything that may not help them, suffice to say, fans of intelligent rock with both delicate and dangerous elements would be satisfied with this record.
Guest article from Andy R.
Written by Guest Writers on
Between 2003 and 2009, [the-mag] had regular contributors from music correspondents covering their local scene. You'll find them all in the guest writers section. The specific writer is mentioned at the bottom of each article.
Discover More Music