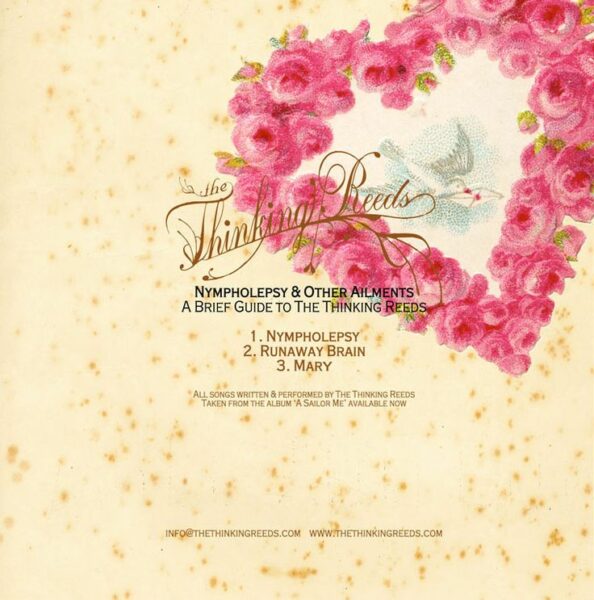 The Thinking Reeds
Nympholepsy and Other Ailments
Law within the music industry dictates that a CD held within a sleeve with a grainy black and white photograph of a women on one side and hearts and doves on the other, is likely to sound the complete opposite of whatever romantic connotations that kind of imagery dreams up. Therefore The Thinking Reeds' Nympholepsy and Other Ailments was quite a surprise.
Before I go any further, Nympholepsy is not, as it sounds, some type of incurable, tropical disease. According to the dictionary, it is defined as 'a frenzied state of (usually erotic) emotion, especially concerning something or someone unattainable.'
So, track one, titled, of course, 'Nympholepsy' tells the tale of going to see a Dr, whose response is a matter-of-fact 'You've got Nympholepsy'. A story of basically being told to accept that you are not going to change the world, so why not just have fun; the lyrical oddness and originality in concept is commendable. Its main strength lies in the fact that you spend the duration of the track pondering over the real meaning of the lyrics. Yet musically, it seems to plod along without really getting anywhere. It is all played quite expertly, with perfectly layered instrumentals, but the track seems to go around in circles without any conclusion as such.
'Runaway Brain' has a quite different sound, bringing to my mind The Zutons if they had been born a century earlier and weren't managed by a major record label. It's really quite lovely (if 'lovely' is a permissible description for any kind of music) with a timeless quality and an excellent combination of well paced instrumentation and great vocals. It maintains a confusingly bittersweet quality throughout with lyrics that appear to be a cryptic diary entry. Vocalist Iain Kelly also plays the piano, harpsichord, synths, marimba and harmonica, which gives these tracks a personal quality so often absent from music, with input from every direction. Again, the track ends a little disappointingly, simply fading into silence, although perhaps this is to build on the enigmatic quality that is conveyed.
'Mary' has all the intrinsic value of any singer-songwriter efforts worth a second listen. It is the most melancholic of the three, with the vocals, in places, sounding almost eerily like Morrissey. The emotional impact has a theatrical quality; the song would not go amiss as an encore to 'Phantom of the Opera', but then how many tunes can you say that about? Not to everyone's taste perhaps, but the sheer knowledge of how to apply music to create such a profoundly morose, yet mystically beautiful sound is quite admirable.
Guest article from Ellie H.
Written by Guest Writers on
Between 2003 and 2009, [the-mag] had regular contributors from music correspondents covering their local scene. You'll find them all in the guest writers section. The specific writer is mentioned at the bottom of each article.
Discover More Music