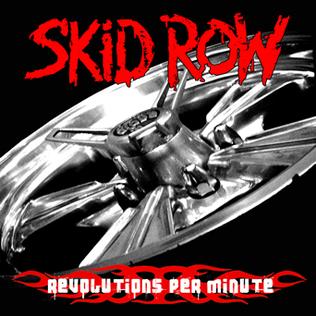 Skid Row
Revolutions Per Minute LP
For the first time in their career Skid Row have finally quit trying too hard. Compared to all their previous records, Revolutions Per Minute gives you a feeling that the band has now reached a point where they can afford to have simple, unassuming fun without worrying about their career or revenue from a record. With their first album they were trying to get their foot through the door, their second record was an effort to maintain their status of an important new band and the album that followed was a contrived attempt to stay in tune with the times that had radically changed.
After that Skid Row fell into an eight year long muteness and re-emerged in 2003 without their superstar singer. With the 2003 album, the band, mostly because of all the expectation that has built up, had no choice but to turn the record into another statement, this time proclaiming that they could still go on easily without Bach and that they could still write killer songs. Whether that record was a success is debatable (although I personally loved it), but Revolutions per Minute is totally different, despite the fact that less than three years have passed between them.
The most important distinction between Revolutions Per Minute and all previous Skid Row albums is that the band didn't approach this record as a challenge. In 2006 Skid Row have nothing to prove. This doesn't mean though that they have nothing to aspire to. It is just that they aspire for different sort of things now – not fame (no-one can take that away from them), not money (hopefully most of them have enough of that) and not critical acclaim (this one would too mystifying to strive for), but simply enjoyable, relaxed life with a freedom to be regular guys, not rock superstars.
Skid Row never wrote ground-breaking music, but they were always good at emulating fashionable trends. This talent for replication is still present on Revolutions Per Minute where the band engages in trendy teeny punk and some watered-down metal, but with the latter they are a few years behind, as diluted metal is certainly not the kind of genre that gets radio play these days. There are also some oddball country-influenced numbers on this album, but this is where the band quite blatantly show that they don't care about what critics say any more and simply want to have fun.
'Strength', the obligatory ballad of the album, is a cover and was originally written by the Alarm in 1985 which explains why it is so different from other tracks on this album.
Despite its title, this record is not about to start a revolution in music, but it is still fun to listen to. I would recommend it as a soundtrack to a reunion party, the one where you get together with old friends from school and have one beer too many while reminiscing about going to see a Skid Row show way back in 1989. However, if you are too young to be doing that, you can skip this record altogether and buy a Towers of London album instead. The music will be just as undemanding, but at least it will be a soundtrack to your teenage years.
Revolutions Per Minute is out this week.
Guest article from Alyssa O.
Written by Guest Writers on
Between 2003 and 2009, [the-mag] had regular contributors from music correspondents covering their local scene. You'll find them all in the guest writers section. The specific writer is mentioned at the bottom of each article.
Discover More Music