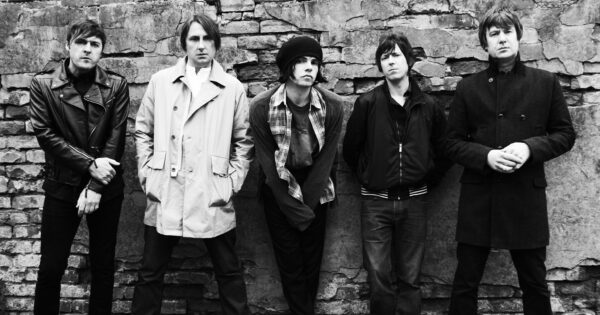 The Charlatans
Live (The Longcut)
Amongst the usual influx of Christmas 'best-of's recently released, overshadowed maybe by the likes of U2 and Oasis, I was intrigued to see what would be on The Charlatans' second retrospective, the aptly named 'Forever'. The Charlatans are the subject of much contention and disagreement between me and my contemporaries, as far as their longevity and recent musical output are concerned. Fine, everybody loves 'The Only One I Know', but I was concerned that its title now carries a worrying truth…
Their first 'best-of', 'Melting Pot', was a fairly comprehensive collection, released in early 1998 – the end of what is commonly regarded as their prime Britpop days. Since then, many may wonder what they've been up to, having not bothered the singles charts or the public psyche in any big way in recent years.
The answer, musically: a great deal. For starters, 1999's 'Us & Us Only' was their most critically acclaimed album. If the words 'a more mature direction…' had you running for the hills, just go back and have a listen – it's a forgotten classic for sure.
Then 2001's 'Wonderland' showed The Charlatans moving into falsetto-fuelled, slickly produced territory, to create that all-too-rare occurrence these days: an album that worked as an album.
'Up At The Lake' (2004) betrayed further the 70s American influences of Dylan and The Flying Burrito Brothers that have been creeping into their sound since the late 90s, and the recent 'Simpatico' saw them successfully attempt a surprisingly competent ska-infused album for the Indian summer.
I was very glad, then, to see that The Charlatans saw fit to dedicate half of 'Forever' to this more creative and varied post-1998 chapter of their long career, rather than just another trawl through the exclusively baggy n' britpop sound they are commonly (and mistakenly) accused of purveying. What's more, I was keen to see them on the supporting tour, hopefully giving a few of the afore-mentioned forgotten classics an airing.
Fellow Mancs, The Longcut, opened up and got pulses racing, setting an electric atmosphere in the Great Hall. Their drum heavy sound is unavoidable. All synths, urgent vocals and wall-of-sound guitars, this is what New Order would sound like if Ian Curtis turned up alive and well and took over vocal duties once more.
Swapping from live drums to drum machine and from bass guitar to synth mid-track gave the band a visual impetus during the instrumental numbers, each more climactical than the last. The storming 'A Quiet Life' ended an excellent set that clearly left a good impression.
Needing no frills or announcements, The Charlatans took the stage and launched into a stompingly atmospheric 'Forever'. The following relentless barrage of great album tracks, singles and crowd-pleasers was a joy to behold. By the second track, nothing was going to sink this performance.
'The Only One I Know' followed 'Love is they Key' followed 'How High', sending the crowd into fever pitch. Even the paying punters, it seemed, had forgotten how many cool tunes The Charlatans have. Frontman Tim Burgess was clearly moved and grateful for the rapturous cheering between songs.
The gentle 'A Man Needs To Be Told' and the magnificently Dylan-esque 'Impossible' gave us all a chance to catch our breath, before tight renditions of 'Just When You're Thinking Things Over' and 'Sproston Green' finished of an eclectic set.
Not all obvious choices, but pleasingly so, the setlist was one of a band confident to pick and choose from its 17 year back catalogue without worry – it's not often that you can leave a great gig listing great tracks that the band didn't play. This was an absolute showcase of the varied talents and styles that The Charlatans have grown to encompass.
And judging by the volume of their constant sing-along, 'The Only One I Know' clearly was not the only one the crowd knew!
Guest article from David S.
Written by Guest Writers on
Between 2003 and 2009, [the-mag] had regular contributors from music correspondents covering their local scene. You'll find them all in the guest writers section. The specific writer is mentioned at the bottom of each article.
Discover More Music