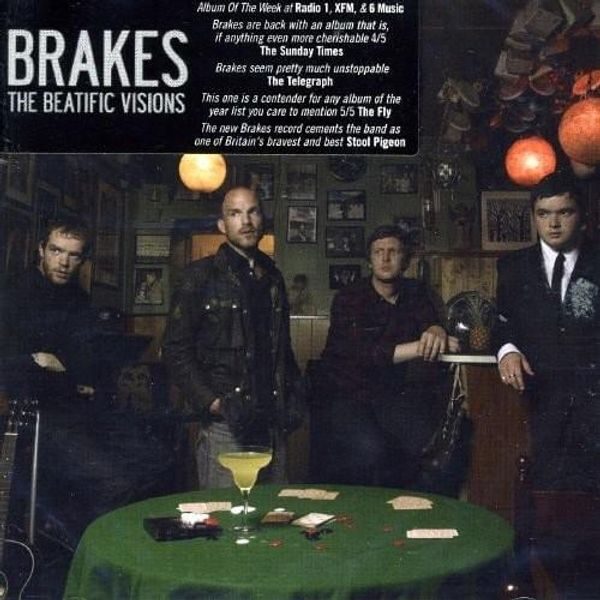 XFM Birthday All-Dayer and Turnmills After-Party
Travelling from the shiny skyscrapers of Canary Wharf to the weathered streets of Camden presents something of a culture shock. Two extremes, from yuppie to hippy, emphasised all the more by the demonstration parade proceeding through the streets of Camden on this Saturday afternoon. I'm one for a good cause (I give £15 a month to Save the Children, don't you know), but I can't for the life of me make out a single word the mob are saying.
So, I proceed onwards to meet Brakes in the Moon Rising pub for an interview about nothing in particular. They're in town to play two gigs, the first being an all-dayer at the Camden Barfly for XFM's birthday bash and the second being some sort of club night at Turnmills. My pencil caddy and I are on the door for Turnmills, but unfortunately, not the afternoon gig. This soon changes, however, and a brief stint carrying some equipment sees us free to roam the venue.
Just in time for The Horrors, who certainly live up to their name for being, well, horrific. Very tall, pasty,
and allegedly fond of sherbert, they play extremely average punk music with fashion-hair and drainpipe-jean trimmings. Having seen them play live, I now realise that my previous affection for the brief 'Sheena is a Parasite' has been almost entirely due to the freaky video directed by Aphix Twin collaborator Chris Cunningham.
There really is nothing of interest happening on stage, and the speaker output is equally uninspiring. The fact that the room is rammed for the duration of their set (besides the odd person walking out muttering 'shite' under their breath) just goes to show what relentless marketing and promotion can do.
Brakes jump onstage and, after the briefest of soundchecks, launch into the tunes I am now so familiar with. The lead guitar is too loud for everything for the first two songs but is soon sorted out. The longer they play, the bigger the crowd grows, with good-time tunes such as 'All Night Disco Party' drawing newcomers in with raw catchiness and quirkiness. The count-in for six-second wonder 'Cheney' is fluffed by a crowd member several times over, making the wait for the song longer than the song itself.
The banter that ensues is part of what makes Brakes such an appealing band. There is no ego here, no fashion-driven presentation, just four guys playing great tunes you can dance to. The customary pineapple is thrown into the crowd and caught by three girls in front of me. Unsure what to do with it, they pass it on to the guy singing along the loudest; that guy being me. Unable to open and eat it, I eventually manage to pass it on to another unsuspecting spectator. Note to self; take a pineapple opening implement to the next Brakes gig.
Immediately after the show Brakes pack up the van and head off to Turnmills for a sound-check. We're offered a lift but decide to stick around to see Blood Brothers and Patrick Wolf, two artists I would gladly pay to see headline their own shows.
Some guy from Million Dead plays acoustic, but I'm driven to the drink through boredom, although the Postal Service cover is worth a watch. Blood Brothers seem to take an age to set up, and once they do, I realise just how poor the sound at the Barfly is. Brakes' acoustic-led numbers are handled OK, but the infinitely-heavier Blood Brothers' sound is lost in a swirling stuffy mass of air that squeals and steals all the intricate guitar parts that make their music so interesting. I end up so pissed off that my impression of them has been tarnished and vow to catch them at a decent venue as soon as possible.
During the end of Blood Brothers' set I bump into Patrick Wolf and his mate Kelly Osbourne. She's surprisingly friendly, bantering and just being generally sound. He however, shys away and folds himself into his seat without saying a word. 'Fair enough, maybe I've imposed myself too much' I think,
so I leave them to it. My mate however, goes back armed with a belly full of Jagermeister in a vain attempt to charm our Kelly. It doesn't go well, so we go back upstairs to wait for Patrick to take the stage.
When he finally takes to the stage, that terrible sound rears its ugly head once again. The flowing, uplifting sounds he is renowned for are lost, leaving a flat, lifeless output that denies these tunes the feeling they deserve. Disappointed and half-cut, we get some quick nosh from the chippy and head over to Turnmills.
Party bags, laughing gas, whistles, rave music and more Jagermeister make up the following two hours of my life in the build-up to Brakes' second set of the day.
Brakes play to a partied-up bunch with much the same gusto as they had done earlier and to an infinitely more enthusiastic crowd. They're great, obviously, and I don't see what else I should write about their evening performance. If you haven't seen Brakes before, see them and buy their music. You will not be disappointed.
The rest of the evening involves a McDonald's, an angry drunk focusing his anger on me and falling backwards off a chair, and yet more Jager. The details are hazy, so I'll leave it at that. In-depth interview with Brakes coming soon!
Guest article from Matt S.
Written by Guest Writers on
Between 2003 and 2009, [the-mag] had regular contributors from music correspondents covering their local scene. You'll find them all in the guest writers section. The specific writer is mentioned at the bottom of each article.
Discover More Music