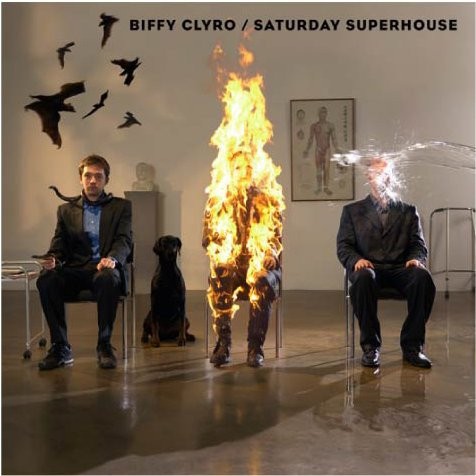 Biffy Clyro
Saturday Superhouse
Long hailed as one of the UK rock scene's most important bands, Biffy Clyro have been steadily building their reputation for years now with a daunting touring schedule and a run of three fantastic, innovative albums in three years.
The band's fourth album Puzzle has been a little longer in gestation and saw the band decamp to Canada for recording. The results – as already demonstrated with download single 'Semi Mental' and this new single, clearly show why this album will be held up in December as one of the year's highlights.
Bursting forth in a hail of hammering guitar lines, the track features everything you would expect from the Biff. Angular guitar lines shoot out at tangents, taking the listener around impossible corners before arriving at random clearings of melodic clarity. Throw in a cryptic narrative on the top, and all told we have a sparkling introduction to the album and will surely see the Biff take their seat at UK Rock's top table.
All eyes on the Puzzle then. I can't wait to see how the pieces all fit together!
Watch Biffy Clyro – Saturday Superhouse.
Biffy Clyro Articles
Written by Guest Writers on
Between 2003 and 2009, [the-mag] had regular contributors from music correspondents covering their local scene. You'll find them all in the guest writers section. The specific writer is mentioned at the bottom of each article.
Discover More Music