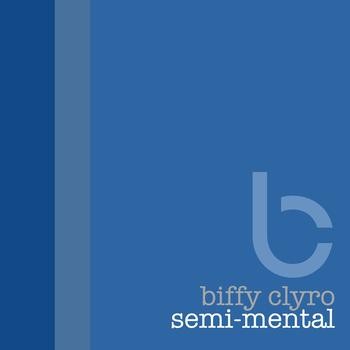 Biffy Clyro
Semi-Mental
Being a massive Biffy Clyro fan and having a CD copy of this download-only single means that I would probably gush about it until my voice went hoarse even if it was complete crap. It's a good job, then, that it is actually awesome.
It seems to have been forever since we had some new Biffy material, and in the meantime, you may have been getting anxious. Since the success of 'Infinity Land' have the boys gone all 'commercial' on us? Have they lost their uniqueness?
Well, you'll be pleased to hear that the answer is no: this single is even better than you might expect it to be. There's more than a hint of Reuben in the driving bass riffs, but everything else is all Biffy. Less experimental than 'My Recovery Injection' but not as structurally 'poppy' as 'Justboy', 'Semi-mental' does exactly what it says on the tin.
Having been mixed by the legendary Andy Wallace, this single has a more anthemic feel than previous singles, yet unlike the Foo Fighters, Biffy have managed to retain their trademark roughness. If this is a faithful precursor to the new album, then we should be getting very excited. I know I am.
Guest article from Heather P.
Watch Biffy Clyro – Semi-Mental
Biffy Clyro Articles
Written by Guest Writers on
Between 2003 and 2009, [the-mag] had regular contributors from music correspondents covering their local scene. You'll find them all in the guest writers section. The specific writer is mentioned at the bottom of each article.
Discover More Music