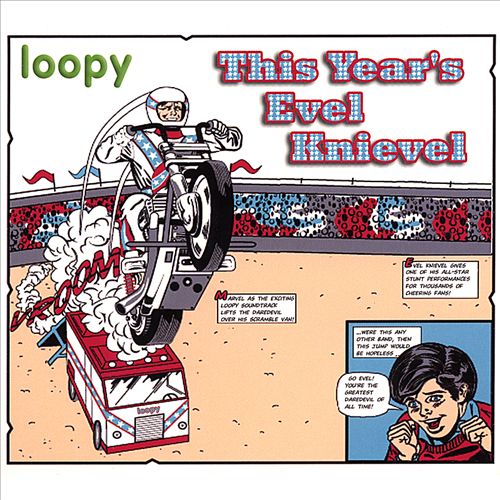 Loopy
This Year's Evel Knievel (LP Sampler)
Ahem… ah one, two, ah one, two, three, four. Yes it's Loopy time again and although I didn't realise it, as soon as the CD hits the stereo, it dawns on me I've been missing them a bit. And that's not easy to say coming from someone who regularly tries to blast his eardrums through the neighbour's wall with the likes of NIN and friends, but I mean it. Honest.
Maybe it's the fact that I'm looking out the window at another freezing, dark and ever so grim day or maybe it's the fact that I'm secretly jealous of my brother jetting off for X-mas in Cyprus – whatever, I need cheering up and Loopy have popped around again, just like one of those consistently cheery aunts, to let me know that life really shouldn't be taken that seriously. And by Santa's tinsel-trimmed Y-Fronts, they're right!
'Wonderful', being the best track on offer here, is both a suitable title and an accurate description of what looks set to be another Loopy classic. Eg's vocals keep telling me 'everything's going to be alright' and, by the end of this 3 and a half minute ditty, he's right (again)!
This track has many elements which are worth a mention. The horn section is the immediate stand out, lifting things to a happy level even before the initially sullen lyrics kick in, delivered with those trademark Crowded House-esque harmonies. The bass plods when it needs to but rumbles its happy way underpinning that feel-good feeling and the guitars are light, fluffy, and jangly in all the right places. Things then develop from the bouncy verse into an even bouncier chorus with the lyrics sticking two fingers up to their verse counterparts reminding us all is really well and there is no excuse for not smiling too often.
With the roar of an engine, a screech of brakes, and a shout from a stroppy bloke, 'Evel Knievel' launches itself over the chasm of dull and oh so cool pop music and just about manages to land on the other side without anyone falling off. Another cheery upbeat number with a harmonica replacing the brass section, Loopy invites us on the back of their bike for another little tour of their world. Musically it is a tad predictable in places but that really doesn't matter much as it has enough breaks with pianos and things popping in and out to keep you entertained all the way through. Oh, and don't forget that sing-a-long chorus, which is bound to put more grins on punters' faces as they reminisce back to that day they wound that little Evel Knievel toy bike up too much, only to see it fly through the headmaster's window.
'Better Off' and 'Friday' make up the rest of this little sampler with the former being a Monkees meets rock sing-a-long and the latter slowing things down for an uncharacteristic melancholic take on relationships.
With the album out just about now, Loopy's latest release may just be the homeopathic remedy for those winter blues you've been looking for.
Written by Habert on
Pete Habert was sub-editor for The Mag and co-ordinated submissions from the swarm of writers that contributed articles from their local music scenes.
Discover More Music