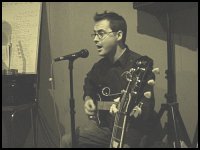 Loopy
Demo EP
Having had their first demo utterly destroyed by the Royal Mail, Loopy directed us to the MP3 download section of their website where we got hold of four tracks from their latest album 'Dazzler'.
The first track 'Starting Out' is a retro-pop in nature with elements of ska thrown in for good measure. If Madness and the Housemartins had ever teamed up to produce an album, this may well have been the result; a fun sound with memorable chorus lines and distinct vocals.
The second song 'Change' is more of a straight forward 80's pop number with fuzzy guitars and chugging route note bass. I actually preferred the simplicity of this song to the busy nature of 'Starting Out', but both tracks have something going on in the chorus that makes them worth what people in the eighties used to call 'a spin'.
'Evel Knievel' is a bit more twee with a hippy-indie sound and harmonica intro that sounds more and more seventies as time goes by. The keyboards in this track are the kind of thing that Franz Ferdinand would come up with, featuring a sound unheard of since your grannies first electric organ – it could be called cheap, but it's usually labelled as retro.
Final song 'Someone' is a bit of nineties pop, a bit like Deacon Blue, but with that eighties vibe returning via the guitar and chorus.
Loopy have shown various sides to their sound with these rather diverse demo tracks and have proved that they definitely have something tucked inside each song that could be nurtured. Perhaps a little common denominator between the songs would help to thread them together as although they are good in their own right, it can be a bit weird listening to these tracks together. Loopy in fact.
Written by Smith on
Stuart 'Saur' Smith was a prolific writer for The Mag throughout the magazine's lifetime. He combined a day job of temporary office jobs in London with a nightlife of trawling the capital's music venues looking for talent. As well as writing about music, he was a session musician who featured on a number of singles in the 90s. Today, Stuart is a Chief Writer for Phonotonal.
Discover More Music