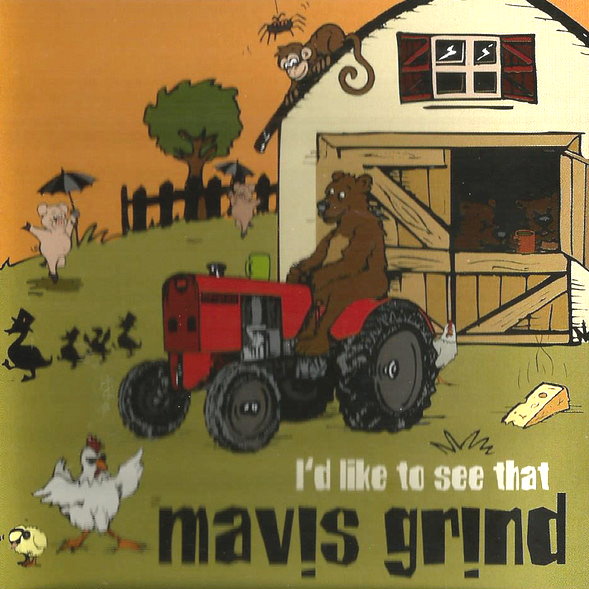 Mavis Grind
I'd Like To See That
I'll be honest – I don't understand it. Why spend an exorbitant amount of money pressing up and packaging a really nice-looking record when you have limited your studio budget to around £25?!
On first impressions (i.e. I was dazzled by a shiny box with a tractor being driven by a bear on the front), I was very excited about this record. The press release further piqued the interest with mentions of funk and R and B and great musicianship. It looked great until I made it to the part of the reviewing process where I rescue it from being run over by a one-year-old in his little car and put the damn thing (the record, not the baby) in the CD player.
To be honest, it was probably better on the floor… It's not that this is a truly awful record; it just feels like a rather undercooked soufflé that has deflated slightly in the cupboard. Mixes are by turns muggy and clumsily executed and then thin and underdeveloped.
There's no doubt there is potential here. The band's grasp of song dynamics are certainly there, and some of the arrangements are great, but too often, the Casio Cabaret button gets pushed, and songs fly along on a flatbed of plinky, honky tonk piano and cheesily clean guitars.
With some fine-tuning, more time and care taken at the recording stage, and a little vocal practice, I think there could be a pretty cool bluesy band underneath the surface. For now, the nicest thing I can say is that my mom would come back from a wedding reception raving about them.
So Mavis Grind, I tell thee – Id like to see this… before you even go into the studio next, take some time with the pre-production. Spend some time crafting your keyboard patches and guitar sounds. Work on your harmonies and your little tricks of arrangement. With some time and care, you will reap rewards, but for now, I'm still clinging to the tractor-driving monkey for relief.
Guest article from Ben M.
Written by Guest Writers on
Between 2003 and 2009, [the-mag] had regular contributors from music correspondents covering their local scene. You'll find them all in the guest writers section. The specific writer is mentioned at the bottom of each article.
Discover More Music