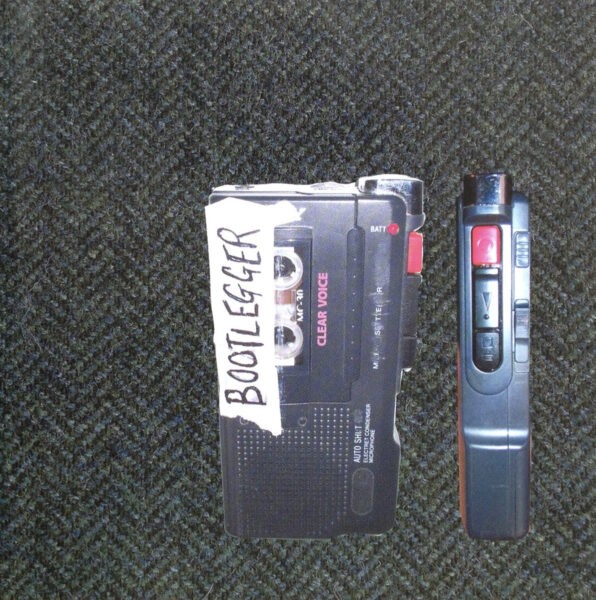 Misterlee
Bootlegger LP
Leicester-based songwriter Misterlee has been building his reputation for several years now with his skewed lo-fi pop. Two previous albums on his own Rubber Czech Records have seen him veer from saccharine moments to unnerving breathy whispers via frenzied drum attacks and space echo outings.
This third album – a live collection of the previous two albums – perfectly demonstrates the Misterlee live experience (itself the best way to experience the music). The highlights of the 'Lee back catalogue are all present and correct – a sprawling wah-driven 'Caligula Waltz' and a rampant run through 'Lying Down' in particular prick the attention, but it's the improvised sections of this record (along with the Peter Sutcliffe skit…err….) that stand out. It's quite amazing how much space can be filled with such sparse instrumentation, with the musicianship on offer having a distinctly free jazz feel in places.
This free-form experimentation offers a fantastic flipside to the band's recorded output, and it's no surprise that main-man Lee Allaston has been making noises about the third Misterlee studio album being a live improvised affair. Sessions are booked with no less than Steve Albini for later in 2007, and the results are sure to be as mind-bending and sprawling as they are melodic and fun.
Slowly but surely, the reputation of Allaston and his band of merry men is growing rapidly among those indie kids in the know. There's one thing for sure – no one's abused that space echo quite so heavily in a long time, and for that alone, sir we salute you!
Guest article from Ben M.
Written by Guest Writers on
Between 2003 and 2009, [the-mag] had regular contributors from music correspondents covering their local scene. You'll find them all in the guest writers section. The specific writer is mentioned at the bottom of each article.
Discover More Music