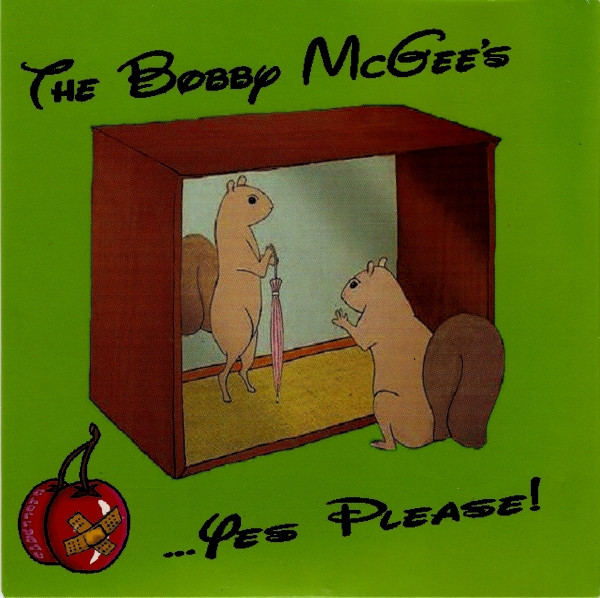 The Bobby McGee's
The Bobby McGee's? Yes Please! EP
Looking at the press release for Yes Please you could be forgiven for thinking The Bobby McGee's are just a novelty act. Here we find a picture of the band sporting painted faces, captain's hats and a frilly ruff or two, while the text points to a group who clearly don't take themselves too seriously. Read between the lines though, and you start to get the impression that actually they are a tad serious about what they do and they have ambition.
'Ivor Cutler is Dead' kicks things off with Jimmy's broad Scottish accent declaring 'I've got no friends, not one, I'm a sad and lonely little boy'. This soon gets echoed with a similar declaration from El setting up a song all about the coming together of two lonely, geeky Smith fans, who both think the other is too far out of their league. At under 2 minutes, it's not the deepest love/friendship story in the world but the gentle ukulele, double bass and tambourine tinkling keeps things upbeat and buoyant in a CBBC sort of way.
'Molly's Lips' continues the yarn but this time aiming at a somewhat higher age group. With the chorus consisting of El & Jimmy swapping the line 'kill yourself, kill yourself, do it now' and the song ending on a poetic 'why don't you just fuck off and die', I suspect you may have already guessed that the relationship is not going entirely blissfully. Unfortunately at only 1 and a half minutes we never do get to find out which one copped it first.
The strangely titled 'Genki Sudo by Flying Triangle' appears next confusing the hell out of me to the point I have head off to Wikipedia to try and make some sense of it. It turns out young Genki was actually a Japanese fighter of some serious merit. Not only did he regularly kick the crap out of people considerably bigger then him, but he did so using such sneaky unorthodox moves such as the flying leg-triangle choke – hence the song title. Don't get too excited though, as the big girl's blouse retired last year to concentrate on his showbiz career!
As for the song, well it seems to have sod all to do with Genki and more about some couple (the same one I assume) in a long relationship who still get butterflies before going out on a date, so I'm still none the wiser. Ah well.
'Albert Camus / Audrey Tautou' then pops up, this time with an accordion to underline the Parisian rekindling of the relationship that hit the rocks earlier. All seems to go well for our geeky, Smiths' loving duo until 'Billy & Tracey' reverts things back to type with cries of 'please don't kill me' and 'I'll slash your throat and gouge out your eyes'.
'Morrissey Said to Tori' then wraps things up with more up front accordions and several well timed bouts of 'fuck you all and everything you stand for', delicately referencing a subtle discourse between the ex-Smiths singer and Miss Amos.
So six tracks and 12 minutes later I'm still wondering what to make of this. The music is jolly enough and the lyrics, with their deadpan delivery, make me laugh, but I can't help feeling a bit short changed in the songwriting department being as there is nothing here over the 2 and a half minute mark.
In all it leaves me wondering whether it's just one big piss-take aimed at jabbing the music industry on their blind side and carving out their own novelty niche or whether it is simply a humorous, honest recital of El & Jimmy's love affair, as suggested in the press release? I really don't know, but then again maybe it shouldn't much matter – after all this is one band you can put your hand firmly on your heart and say with confidence that no-one else comes close to what The Booby McGee's do, and for that at least, we must salute them.
Written by Habert on
Pete Habert was sub-editor for The Mag and co-ordinated submissions from the swarm of writers that contributed articles from their local music scenes.
Discover More Music