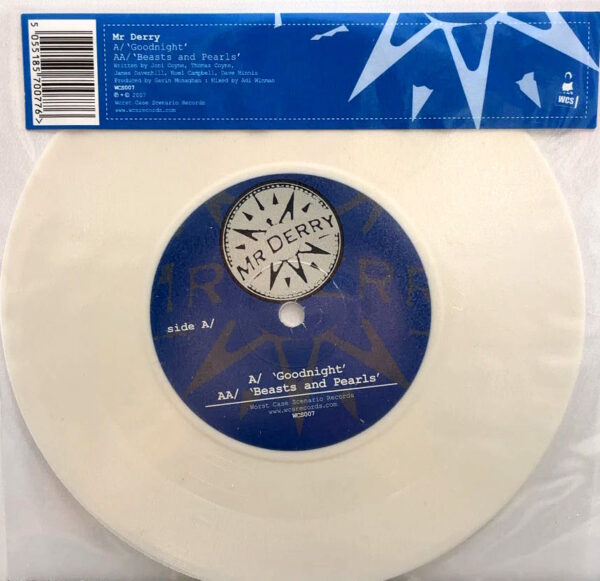 Mr Derry
Goodnight / Beasts and Pearls
With a rock sound that tears at the heels of bands like Jet or Kings of Leon, but with a vocal that could have been supplied by the likes of Buffie Cloud, Mr Derry make a strong return with this double a-side single.
'Goodnight' has a pounding beat with big guitars and a chorus that everyone can (and does) join in with. The bass guitar gets the spotlight for the solo and the addition of some 'whoo-hoos' adds some vocal spice.
Alternating between a smouldering vocal and guitar chant and a fast hippy-rock fling, 'Beasts and Pearls' is the seventies love child of Mr Derry and an unknown local girl with flowers in her hair. This is a song that would sound great on vinyl and, luckily, this will be available as a 7′.
This is the best record yet from Mr Derry and they add a long-awaited girl-fronted spin to the world of retro rock n roll.
Watch Mr Derry – 'Beasts and Pearls'.
Written by Fenton on
Steve Fenton writes in our music, words, and culture categories. He was Editor in Chief for The Mag and covered live music for DV8 Magazine and Spill Magazine. He was often found in venues throughout the UK alongside ace-photographer, Mark Holloway. Steve is also a
technical writer and programmer
and writes
gothic fiction
. Steve studied Psychology at OSC, and Anarchy in the UK: A History of Punk from 1976-1978 at the University of Reading.
Discover More Music