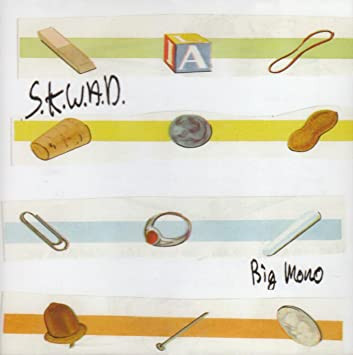 S.K.W.A.D.
Big Mono
Hailing from the darkest depths of Pontypridd in South Wales, S.K.W.A.D. are a four-piece 'alternative' rock band which, judging by their MySpace band profile, have earned themselves a rather substantial cult following. Since the formation of the band in 2004, S.K.W.A.D. have clocked up an impressive track record for supporting some very real 'rock and roll' heavyweights, including The Damned, Motorhead, Anthrax and the Backyard Babies.
It was a very pleasant surprise, then, when their new MCD 'Big Mono' slipped through the dark and grubby little gap in my front door (which barely passes the most basic of requirements for a letterbox) and bounced around on my rather cheap (and considerably nasty) floor tiles… and it was with an equally pleasant anticipation that I whipped the shiny little disk out of its cover and fed it to my CD player.
I was not disappointed. Within seconds, I was immediately hooked by the first few bars of the opening track 'What do You Want' that churned its way around the bowels of my ageing, home-brew HI-FI kit, before relentlessly and mercilessly attempting to hammer a rather large hole through the diaphragm of my trusty Grados! It's been a while since I've subjected my fuzzy little brain to such a blissfully masochistic onslaught. With some clear Punk overtones and an almost annoyingly catchy 'metal-like' riff, it's the kind of track that prompts me to jump around the living room in my Primark underpants, playing (very bad) air guitar like a complete manic idiot. What do I want? Well guys… a little bit more of the good stuff, please!
And, I am very happy to say, that the rest of the tracks continue the trend very nicely indeed. Most notably of all 'Fire in the Sky' packs a real wallop of an up-tempo beat. It's one of those tracks that most certainly wouldn't be out of place blasting away in the background of some high-energy PlayStation offering, such as Grand Theft Auto or one of those high-octane 'crash and burn' racers.
All in all, this is a very impressive CD and a highly recommended addition to the collection. Simply fantastic!
S.K.W.A.D. are currently planning on following up the release of Big Mono with a full UK tour.
Guest article from Julian H.
Written by Guest Writers on
Between 2003 and 2009, [the-mag] had regular contributors from music correspondents covering their local scene. You'll find them all in the guest writers section. The specific writer is mentioned at the bottom of each article.
Discover More Music