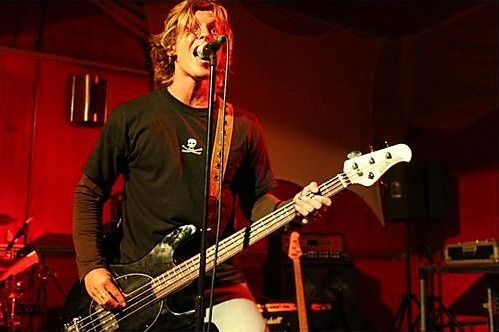 Chinastyle
Interview With Rick Parkhouse
Back in January 2004 a copy of the debut getAmped album, Phoney Society, dropped on the doormat and straight into The Mag's hall of fame. It was an awesome debut from some very talented musicians. We spent the next three years following them around the live music scene and checking out their subsequent records. They even enjoyed long-term success in our MP3 charts.
With this in mind, when they officially disbanded and created the new band, Chinastyle, we wanted to know why. We caught up with Rick Parkhouse to find out some answers…
We'll start with the obvious… What happened to GetAmped?
We split with our management and label of three years. It was very painful, and we had a whole summer to sit down and do some thinking about where we wanted to go with the band. We all decided we were ready for a new adventure musically, and we wanted to completely re-think our sound and genre. So we made the difficult decision to break getAmped up formally and Chinastyle was the result. We had met Ben on tour with Rooster, and got on really well, I'd been looking to free myself of the bass to concentrate more on fronting the band, and so after one rehearsal and a coffee in Waterloo station that was that! The end of an era! It felt a bit strange at first, but we're loving our new sound and haven't looked back.
Where did the name Chinastyle come from?
Names!! Argggh! We agonised over names for hours. To tell you the truth, none of us ever really liked the name getAmped. It came from the desperation of trying to get an Amped website, and they were all taken, so we stuck 'Get' on the front and that was that. But we all felt it could have been better and didn't want to make the same mistake again, so we spent about 2 months going through names. It was harder than writing a record!

We hit rock bottom when Jase suggested 'Radish' LOL! Imagine a rock band named after a watery bit of salad! But I digress – well, you hardcore getAmped followers at The Mag will know all about our exploits in China. We had some amazing gigs over there, playing open-air festivals to thousands of people. That's when we first played with Jase as he stepped in to fill Dougal's shoes when he couldn't get time off work for the tour. The crowds there were so open-minded; you could do anything on stage, and you really let your guard down and gave your heart and soul to every performance. Back in the UK Chinastyle had become a little phrase we used to use before a show, to tell each other to go nuts! It was like: "Let's do this one china-style, guys!" So we nicked it for a band name!
Do you have a new sound or is it a progression of the previous material?
Very much a new sound; we wanted to oust any last vestiges of pop-punk from the sound. Tim was really getting into more textural guitars, playing really tight riffs with little or no distortion, and the sound evolved from that.

It's groovier, less heavy, more melodic, with more depth and subtlety. But it still has balls and energy. We wanted to do dark love songs over heavy grooves, kind of like a Depeche Mode with guitars! But it's funny because, for all that talk of being less heavy, the video went straight on to Kerrang so it still must sound rocky to people!
How would you describe the band now?
I would describe us as new wave meets rock via a disco…without a hint of panic anywhere though!
You're releasing Trip The Light in April – is that the official start of a new era?
Very much so – we are working on a new album as we speak and this first single is to launch the band and the new sound, and then we will be doing a couple more singles leading into the full record. It's kind of frustrating because GetAmped had a whole record ready to go (our best ever in my opinion) and now those songs will never see the light of day, but in another sense, it's so invigorating to have a clean slate. I feel like we can do whatever we want musically without having to put up with tw*ts telling us that it's not punk rock, which we never were in the first place…
Will you be touring, or getting into a studio to get some more material?
Touring is inevitable, but we are making a conscious effort to pick and choose gigs a lot more carefully. It's hard to believe, but getAmped did 330 gigs in 2 years, and we all felt a bit burnt out after that. We are going for quality rather than quantity this time!
What can we expect from Chinastyle?
Two more singles, an album, and then world domination! LOL No, I think we've all become a lot more realistic about what the music business has in store for you, and the truth is, no one really knows. We're going to get our heads down, write some great songs, play some shows, and hope people like our music enough that we can make a career out of it!
So, things are going to be a bit different to getAmped, but having had a sneak peak at the music I think getAmped fans will love it… as will a whole bunch of new fans!
Chinastyle Articles
Written by Fenton on
Steve Fenton writes in our music, words, and culture categories. He was Editor in Chief for The Mag and covered live music for DV8 Magazine and Spill Magazine. He was often found in venues throughout the UK alongside ace-photographer, Mark Holloway. Steve is also a
technical writer and programmer
and writes
gothic fiction
. Steve studied Psychology at OSC, and Anarchy in the UK: A History of Punk from 1976-1978 at the University of Reading.
Discover More Music