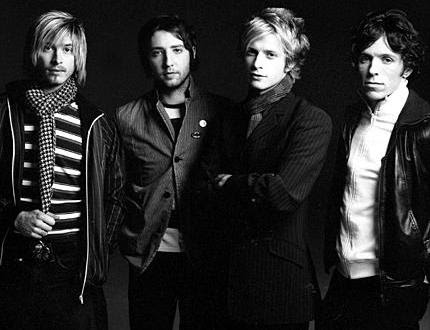 Delays
Live (Mes Memoires)
Mes Memoires had already been hard at work tapping up the crowd for their set, so they had a big audience to impress when they stepped on stage at Camden's Barfly.
Two acoustic guitars and two voices combine to great effect and with songs that added some cocky artyness to Billy Bragg style social commentary. The melody was interspersed with rhythmic stutters, which added a percussive element that would have otherwise left a big hole; and the simplicity of the rhythm guitar was offset by the harmonies.
Brimming with new material, Delays indicated how good their album is going to be by lining up the new songs against the biggest tracks from their previous two long players.
'Long Time Coming' started things off, setting the bar high for songs such as 'Hooray' and 'Touch Down'. Their confidence was well justified though as the crowd lapped up every note. In fact, the new songs did so well you'd be forgiven for thinking that the album was already a maturing release. Recent EP release, 'Love Made Visible' was great live and 'Keep It Simple' supplied yet another reason to want the new LP.
The Barfly somehow seemed smaller than ever and despite being just a four-piece, the stage just didn't seem big enough to contain the energy and charisma of the band. This year will surely be the year that Delays get the recognition they deserve. They've certainly got my attention.
Written by Fenton on
Steve Fenton writes in our music, words, and culture categories. He was Editor in Chief for The Mag and covered live music for DV8 Magazine and Spill Magazine. He was often found in venues throughout the UK alongside ace-photographer, Mark Holloway. Steve is also a
technical writer and programmer
and writes
gothic fiction
. Steve studied Psychology at OSC, and Anarchy in the UK: A History of Punk from 1976-1978 at the University of Reading.
Discover More Music