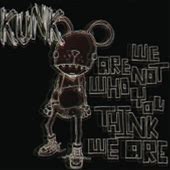 Kunk
We Are Not Who You Think We Are
Kunk keep it loose and scuzzy on their venomous, quirky, and, ultimately, hooky single. 'We Are Not Who You Think We Are' is a simplistic glam-punk-rocker with a great chorus amongst a shouty track, which might be classed as grrrl-punk had it not been penned by blokes. The contrast between the jagged verse and squelching chorus is the best bit in an excellent song.
A driving beat pounds out 'Public Image Ltd', a scathing analysis of band culture with an ironic 'I wanna be like you' chorus that sums up their sentiments.
'Little People' explores the strong influence The Pixies have on this band, with strumming guitar and fantastically-trebly bass. It fits the sound musically and lyrically, quirky yet meaningful.
Kunk are an off-the-wall band without the brittle chorus lines. They also have an extra stomp factor that makes all the difference on this single.
Kunk Articles
Written by Smith on
Stuart 'Saur' Smith was a prolific writer for The Mag throughout the magazine's lifetime. He combined a day job of temporary office jobs in London with a nightlife of trawling the capital's music venues looking for talent. As well as writing about music, he was a session musician who featured on a number of singles in the 90s. Today, Stuart is a Chief Writer for Phonotonal.
Discover More Music