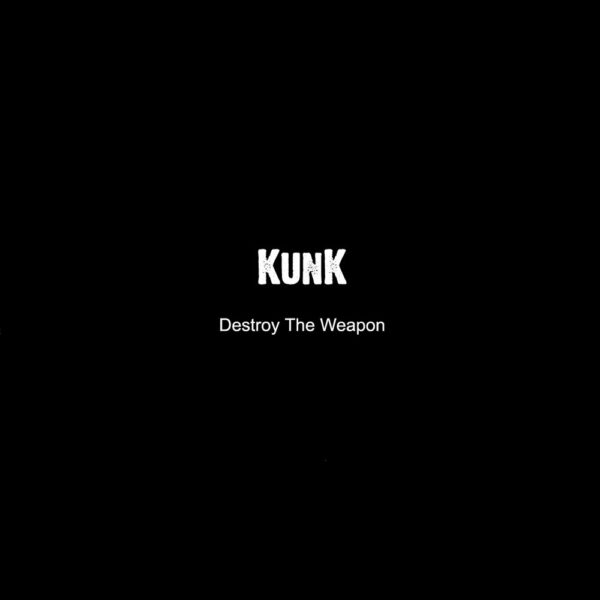 Kunk
Destroy The Weapon LP
Smashing through the speakers with an angsty tone, Kunk have notched things up several gears for this indie-punk long-player. It captures the chaos of the band's firmly unusual composition style in great woody tones that are thick with quality.
It's not just the sound that cracks like a partygoer through a fence, the songs are also a sharp slap to the face with riffy guitars, trebly-sounding bass, and stomping drums. This is the domain of tracks around three minutes long and each one spins from a different hook, usually a smart rhythm that underpins the guitars and barked vocal.
Everything from 'Intro' to the previous single 'We Are Not Who You Think We Are' is a sure-fire winner, with the latter third of the album being more visceral and challenging with 'Destroy the Weapon' and 'Fraction' being more noise-rock; still good, but more targeted in its appeal. 'Game Over' and 'Outlines' reign things back in for a strong finish.
It's like a version of Bloc Party crossed with Rocket from a Crypt and Semi-Detached-era Therapy? stretched out and nailed to punk and stompy rock – and it is no less brilliant for it. Make haste, obtain the album.
Written by Fenton on
Steve Fenton writes in our music, words, and culture categories. He was Editor in Chief for The Mag and covered live music for DV8 Magazine and Spill Magazine. He was often found in venues throughout the UK alongside ace-photographer, Mark Holloway. Steve is also a
technical writer and programmer
and writes
gothic fiction
. Steve studied Psychology at OSC, and Anarchy in the UK: A History of Punk from 1976-1978 at the University of Reading.
Discover More Music