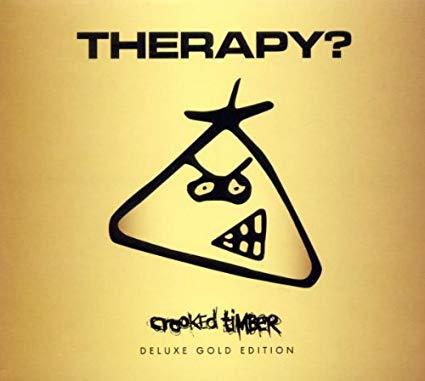 Therapy?
Crooked Timber Gold Edition
It has been over a year since I received, listened, and drowned in the brilliance of 'Crooked Timber' and yet, with the release of this gold edition, the tracks are just as vital today as they were then.
A finer start than 'The Head That Tried To Strangle Itself' has yet to grace a rock album and it is the scene set by this high standard that permeates this record. It's just an utterly brilliant album.
There are one or two changes on this release, other than the shiny gold exterior, starting with the sample version of 'Exiles', which had gentle deviation from the original album. The Breathless FX Mix of 'Crooked Timber' is also faithful to the original song, but with some more prominent tonal shenanigans on offer.
The Bong-Ra Gutteral Exodus Mix of 'Exiles' sees the music go full circle, taking the music back to one of its original influences. Heavy dub beats and swarming bass tones consume the song with the vocal appearing menacingly in between. The Snug Slut Mix of 'Magic Mountain' is a surprisingly indie-fied remix and one that works brilliantly, with bright guitars and fuzzy bass tones.
Two new songs grace the tail end of the record, both adding new dimensions to the sounds of the original 'Crooked Timber'. 'Low Winter Sun' adds a radiant harmony to a chunky beat with loads of rhythmic flair and 'Don't Try', which is a substantial song with wired guitar licks.
'Crooked Timber' is a huge album and this release gives late-comers a chance to catch up with things as Therapy surge back into their prime.
Written by Fenton on
Steve Fenton writes in our music, words, and culture categories. He was Editor in Chief for The Mag and covered live music for DV8 Magazine and Spill Magazine. He was often found in venues throughout the UK alongside ace-photographer, Mark Holloway. Steve is also a
technical writer and programmer
and writes
gothic fiction
. Steve studied Psychology at OSC, and Anarchy in the UK: A History of Punk from 1976-1978 at the University of Reading.
Discover More Music