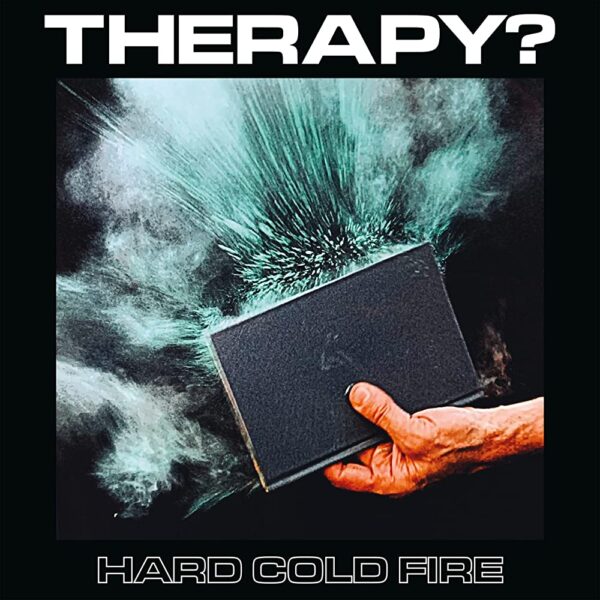 Therapy?
Hard Cold Fire LP
From the recent singles, we knew HARD CODE FIRE was going to be a stunner and the full album doesn't disappoint.
The sharp stabbing riffs of 'They Shoot the Terrible Master' opens the album. This is Therapy? at their best. It's got angular guitar tones, rhythmic force, and melodic hooks. You can look at it from two different angles and find it gnarly and twisted or smooth and wonderous. It's both.
After the lyrically sparse opener, the album twists into 'Woe'. This is a tricksy composition that is packed with sonic surprises. It skips around in the intro, lays down sharp turns in the verse, then breaks into a big melodic chorus.
After the proto-punk repriser, 'Joy', the dark glinting crisis anthem, 'Bewildered Herd' and it's possible epilogue, 'Two Wounded Animals'.
Eating plastic and lead
In a world plagued by our presence
Why do we force-feed ourselves
When it all tastes of ashes?

Can't touch the flame
Everything's on fire
Can't quench the thirst
Do I watch it burn?
What you gonna do now?
And distract myself
In the bеwildered herd
There's intracacy in 'To Disappear' and some growl in 'Mongrel' before the on-point 'Poundland of Hope and Glory'. The dual-vocal lines of 'Ugly' provide a sinister atmosphere before the surpiring doom-pop tinged '10 Days Kollaps'.
The album is one of the most rounded offerings from Therapy? There are flickers of recognition across all their major eras, often combined into superb new forms.
Listen to Therapy? – 'Mongrel'.
Written by Fenton on
Steve Fenton writes in our music, words, and culture categories. He was Editor in Chief for The Mag and covered live music for DV8 Magazine and Spill Magazine. He was often found in venues throughout the UK alongside ace-photographer, Mark Holloway. Steve is also a
technical writer and programmer
and writes
gothic fiction
. Steve studied Psychology at OSC, and Anarchy in the UK: A History of Punk from 1976-1978 at the University of Reading.
Discover More Music