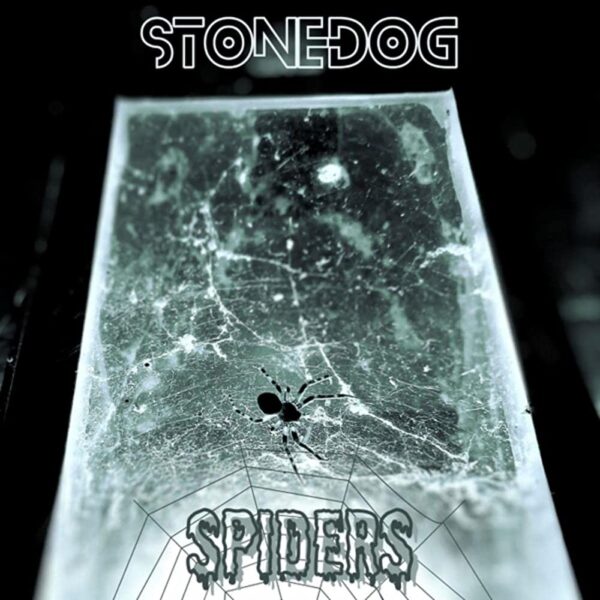 Stonedog
Spiders
Stonedog's new single, 'Spiders', is a grunge rock song with a gloom-pop twist. It starts with a warm guitar with ghostly reverb, then the toms come storming in. It's moody, horror-tinged, and captures a perfect atmosphere.
'I've been looking at the spiders and they're watching me,' Jon whispers in a lullaby-esque sinister tone. 'I've been listening to the spiders and they're watching me.' The first chorus is brief and punchy, 'too many eyes, too many legs,' and by now, you can feel those little hairy appendages tickling your skin.
The rhythm created by the guitar in the verse is reprised as a heavy distorted post-choral festival of noise, making the descent into the verse even more menacing.
From a production perspective, the record feels thicker and stronger than ever. It ratchets up and down the dynamic scales and maintains high clarity even when the noise is ramped up. It has great tone.
'Spiders' is right on point. It has character and feels. If the next album is filled with stuff like this, we're all in.
The new album is called Post Apocalyptic Zombie Love Songs and it's heading our way hopefully by the end of May.
Written by Fenton on
Steve Fenton writes in our music, words, and culture categories. He was Editor in Chief for The Mag and covered live music for DV8 Magazine and Spill Magazine. He was often found in venues throughout the UK alongside ace-photographer, Mark Holloway. Steve is also a
technical writer and programmer
and writes
gothic fiction
. Steve studied Psychology at OSC, and Anarchy in the UK: A History of Punk from 1976-1978 at the University of Reading.
Discover More Music