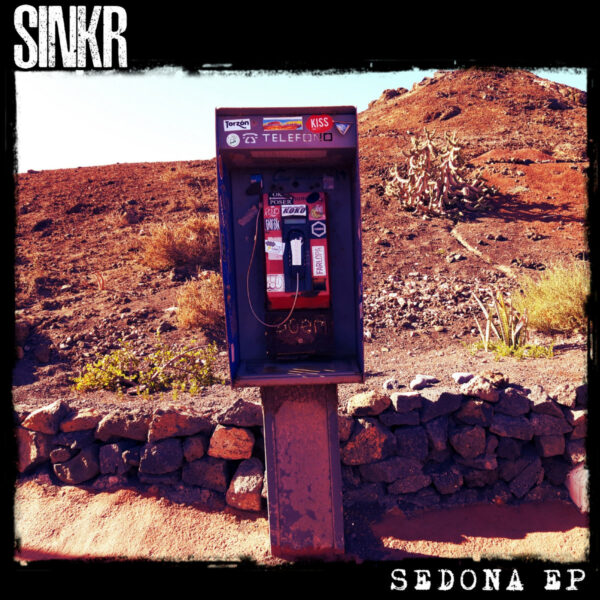 SINKR
Sedona EP
Following their debut long-player, A History of Things to Come, SINKR's Sedona EP has found songs the definitely show the different aspects of the band's sound.
It all starts with 'A Place For You and Me', with great guitar and a pacy rhythm, like a strange combination of Placebo and The Early November with a Goth rock vocal. So far so good. We're then into 'Cut Deep', which has elements of Alkaline Trio, with a bass line featuring prominently and allowing the guitars to do interesting stuff in the verses. The chorus is suitably hooky, the 'Cut deep, cut deep, have you ever felt like this before / I don't want to feel it any more' line flirting with emo/punk.
The title track has some Joy Division sensibilities in the verse, the guitar motif conjuring spartan post-punk. The chorus is more of a grunge/rock affair, providing a contrast with elevated noise levels and punch. Final offering, 'Fiction', references some early punk chants. It's a song that has a powerful chaos to the sound.
Sedona vs A History of Things to Come
There's an interesting reprise at the end of the Sedona EP that references the intro to A History of Things to Come. The long player has more of the up-tempo stuff, and its slightly more punk leaning. The EP explores a darker sound. If you like the EP, you'll also like the twelve tracks on the album, there's a lot of quality there.
From a technical perspective, the album has a more dynamic tone, with a very punchy mix. It will be down to personal perspective whether you like the hard edged pop of the album or the more muted natural sound of the EP. Both are good quality recordings and in both cases everything has space in the mix.
SINKR are clearly in the zone with songwriting, drawing on many genres from noise rock, punk, emo, grunge and alternative rock.
Listen to SINKR – 'Why Don't You Keep Your Thoughts To Yourself'.
Written by Fenton on
Steve Fenton writes in our music, words, and culture categories. He was Editor in Chief for The Mag and covered live music for DV8 Magazine and Spill Magazine. He was often found in venues throughout the UK alongside ace-photographer, Mark Holloway. Steve is also a
technical writer and programmer
and writes
gothic fiction
. Steve studied Psychology at OSC, and Anarchy in the UK: A History of Punk from 1976-1978 at the University of Reading.
Discover More Music