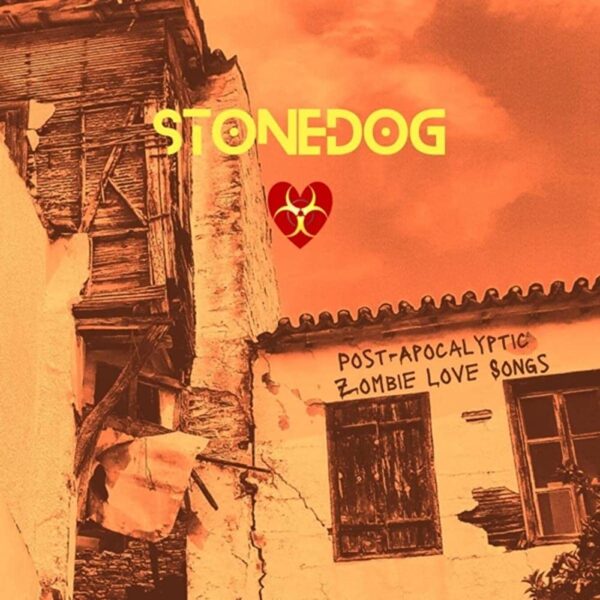 Stonedog
Post Apocalyptic Zombie Love Songs LP
'The evil has landed,' the announcement read. Yes, Stonedog have released their ninth album – and it's positively tenebrous. Described as 'a concept album falling somewhere between alternative and mildly-progressive rock', what we have is an artful audio gothic novel.
This band create songs with lots of detail, and this album is a showcase. Yes, they certainly can conjure doomy compositions and gloom-laden lyrics – but there's a dark artistic beauty in these songs. Take, for example, 'Flashes Before Her Eyes', which has a 5/4-3/4-what-just-happend/4 transition (yet works). Paired with lyrics that could have been penned by Edgar Allen Poe.
Come and lay her down
In the fields of golden brown
Nails across his skin
Fireworks as she's falling in
Come back from the road
House of echoes, loss and lies
Screaming off her cloud
As her life flashes before her eyes
The songs range from atmospheric stripped-back tracks to songbook rock songs, to … there are motifs and solos throughout that could have been the basis of mainstream indie and rock songs (Radiohead, Headswim, even Biffy Clyro), but things are kept deliberately eclectic for the most part. The album makes some flirtations with contemporary formats, before flinching away from the burn of the sun.
I'm instantly in love with 'Spiders' and 'Elephant', but I also appreciate deeply the less instant, more unusual songs. 'In Thrall' is a particular favourite, with its synth strings adding extra feels, and one of many songs with Zan van Boggelen adding backing vocals.
'Breakout' is another great track, with an almost monastic chant twist to the verse. The signature guitars and vocal are the draw, and this record provides many distinct manifestations of that combination.
Written as a continuous tale from start to finish, it is, by a country mile, the most complex work I've ever done. I also play every instrument for the first time, including drums.

Jon Davies
For me, the album conjures those strange dreams in period horror films. You can image Jon Davies rendered in black and white, running in slow motion down long dusty corridors, chasing a woman with long black hair dressed in a long white gown. All the windows are open and the lace curtains look like they are floating in water.
Come indulge in this cannibal romance. For sure, the evil has landed!
Stonedog Articles
Written by Fenton on
Steve Fenton writes in our music, words, and culture categories. He was Editor in Chief for The Mag and covered live music for DV8 Magazine and Spill Magazine. He was often found in venues throughout the UK alongside ace-photographer, Mark Holloway. Steve is also a
technical writer and programmer
and writes
gothic fiction
. Steve studied Psychology at OSC, and Anarchy in the UK: A History of Punk from 1976-1978 at the University of Reading.
Discover More Music