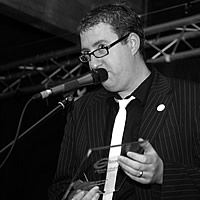 Dlugokecki Live
(The Queue)
Having taken the South By South West festival by storm as part of their most recent assault towards world domination, Southampton heroes Dlugokecki made a more than welcome return to home shores with a relaxed acoustic set at The Railway Inn.
Mod upstarts The Queue got the evening off to a raucous start with an adrenaline fuelled set of life affirming rock n roll with added youthful swagger. 'Top Of The World' could have easily been written by a young Noel Gallagher whilst 'Feelin' makes the fact that the vast majority of the band are only 16 years old downright laughable. Seeing The Queue playing live genuinely re-ignites those excitable feelings of seeing Oasis when they brewed up such a storm back in 1994 ( a time when these boys were in nappies!!). They proudly wear their Beatles, Jam, Stone Roses and Verve influences on their sleeves without being plagiaristic and are a very tight and talented unit without ever being over indulgent, The Queue live experience is refreshing to say the very least.
Ben Dlugokecki will surely, SURELY become a household name before long. Tonight's acoustic set gives us an opportunity to hear the likes of 'Heaven To Believe In' and 'Save My Soul' stripped down to the bare necessities of guitar and cello. This reveals a new found fragility and depth to the embarrassment of riches that is Dlugokecki's catalogue. Sharing in gentle banter with the crowd, Ben makes everyone feel immediately at home and somehow makes an already relaxed and intimate gig feel like he and Marie may as well be playing live in your own lounge.
The Southampton music scene is pretty vibrant right now and with the likes of Dlugokecki and The Queue around, there are some exciting times ahead. Watch this space…
Guest article from Paul L.
Written by Guest Writers on
Between 2003 and 2009, [the-mag] had regular contributors from music correspondents covering their local scene. You'll find them all in the guest writers section. The specific writer is mentioned at the bottom of each article.
Discover More Music