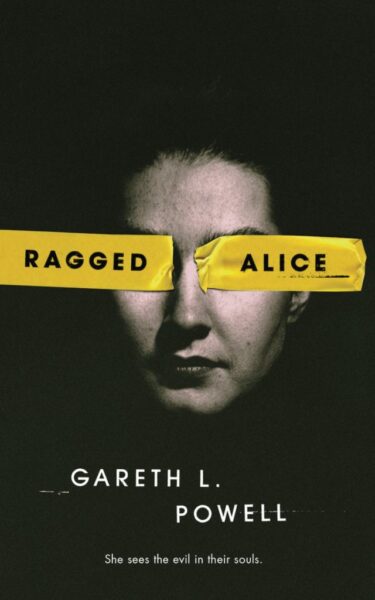 Gareth L. Powell
Ragged Alice
Gareth Powell is a name you might have associated with award-winning dystopian steampunk novels featuring a cigar-chomping monkey, or perhaps with intergalactic science-fiction. I certainly did; until I got sucked into the genre-blender that contained the highly addictive smoothie titled Ragged Alice.
Let's not beat about the bush. I finished this in one go because it's as fast-paced as they come. Events are machine-gunned at you at breakneck speed, with each chapter fast-forwarding you ever closer to the conclusion. Despite the speed, the positively vibrant descriptions of the geography are the most vivid since Ewart Hutton's bleak and familiar renderings of Wales.
The novel itself is firmly rooted in detective fiction; the smart and troubled investigator and their trusty sidekick is familiar enough, but there is something else going on here. As alluded to in the synopsis, there is a bit more to it than rational sleuthing, DCI Holly Craig can see a glowing light in people's heads and can infer their troubled past from the tarnished glow. The subtle early use of this talent paves the way for supernatural edges to the story that are believable thanks to that grounding in classic crime writing.
There is also something unusual and charming about the well-crafted individuals that inhabit the fictional Welsh seaside town of Pontyrhudd. In particular, Ethel Phillips is a dazzling ray of colourful brightness who supplies some of my favourite tangents in the book.
When I read the first chapter, I could feel the electric current dancing off the opening line. The book continued to sizzle dangerously all the way to the very end.
Publisher's Synopsis
A small Welsh town. A string of murders. And a detective who can literally see the evil in people's souls. Orphaned at an early age, DCI Holly Craig grew up in the small Welsh coastal town of Pontyrhudd. As soon as she was old enough, she ran away to London and joined the police. Now, fifteen years later, she's back in her old hometown to investigate what seems at first to be a simple hit-and-run, but which soon escalates into something far deadlier and unexpectedly personal—something that will take all of her peculiar talents to solve… (Synopsis)
Written by Fenton on
Steve Fenton writes in our music, words, and culture categories. He was Editor in Chief for The Mag and covered live music for DV8 Magazine and Spill Magazine. He was often found in venues throughout the UK alongside ace-photographer, Mark Holloway. Steve is also a
technical writer and programmer
and writes
gothic fiction
. Steve studied Psychology at OSC, and Anarchy in the UK: A History of Punk from 1976-1978 at the University of Reading.
Discover More Words