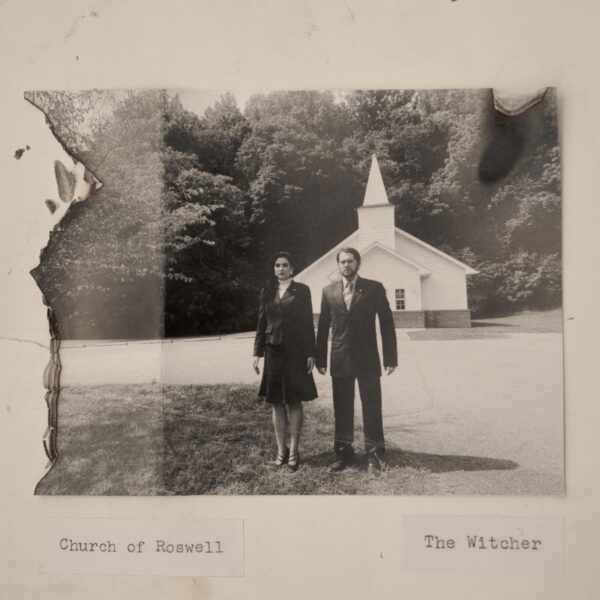 Church of Roswell
The Witcher
Buzzing and rolling into life, Church of Roswell make a powerful debut with the fantastic bounce of 'The Witcher'.
Candi Carpenter and Josh Doyle have voices that combine into powerful melodies and harmonies – no backing vocals here, just two characterful voices speeding us along as the supergroup-band fire it up with great rhythm and whirling instrumentation.
It's country to the roots, this song, but there's also something Kula Shaker about the way the beat takes you into the song. It's all masterfully done, but that's not to say this is simply a showcase for a bunch of painfully talented people; the song sparkles with the glint of hooks, the riff sticks in your earholes, and the vocal lines invade the deepest wrinkles of your brain.
'Who is the Witcher?' they ask. 'Is he hiding in the shadows? Is he standing in the light? Is he promising you peace and love while sharpening the knife?' These questions are left unanswered, but lyrically the song is in the sweet spot of genre fiction that the cover promised us.
Church of Roswell have packed into little more than three minutes enough brilliance to make them a band to watch. Check out their video below.
Watch Church of Roswell – The Witcher
Church Of Roswell Articles
Written by Fenton on
Stuart 'Saur' Smith was a prolific writer for The Mag throughout the magazine's lifetime. He combined a day job of temporary office jobs in London with a nightlife of trawling the capital's music venues looking for talent. As well as writing about music, he was a session musician who featured on a number of singles in the 90s. Today, Stuart is a Chief Writer for Phonotonal.
Discover More Music