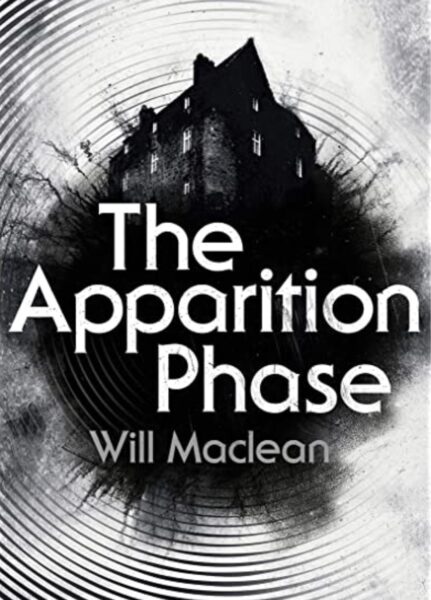 Will Maclean
The Apparition Phase
There is a certain inevitability to the events that unfold after Tim and Abi sketch a ghost in chalk on the attic wall, but though the tree falls it seems impossibly difficult to predict where it's going to land. Will Maclean weaves the grit and glue of 1970s Britain into one of the most descriptive and surprising books this year.
What we have on our hands is a ghostly tale; one that rivals M. R. James for prickly creepiness. However, it's the fluency of the narrative and intricacy of the prose that works such magic on this story. It's immersive and three-dimensional, with a literary fizz that makes you feel each conversation, each noise, and each discovery.
Horror fans will find an intelligent blitz of everything: Premonitions, a creepy mansion, twisted dreams, and a series of séances that spin events into a dangerous frenzy. The rendering of characters throughout keeps everything perfectly believable, the immaculate portrayal of normal lives grounding the book and making the impossible so very plausible.
The braiding of the plot, the horror elements, the characters, and the writing style make this book rather unique. You could enjoy it for any one of these, but together it's a bit special. Will Maclean is the kind of writer that can't just say it's raining… it's bubbling against a fence like hot fat, or descending in a drenching, cancelling curtain through a rat-black night.
Will Maclean is definitely an author you need on your radar.
Publisher's Synopsis
Tim and Abi have always been different from their peers. Precociously bright, they spend their evenings in their parents' attic discussing the macabre and unexplained, zealously re-reading books on folklore, hauntings, and the supernatural. In particular, they are obsessed with photographs of ghostly apparitions and the mix of terror and delight they provoke in their otherwise boring and safe childhoods.
But when Tim and Abi decide to fake a photo of a ghost to frighten an unpopular school friend, they set in motion a deadly and terrifying chain of events that neither of them could have predicted, and are forced to confront the possibility that what began as a callous prank might well have taken on a malevolent life of its own.
An unsettling literary ghost story set between a claustrophobic British suburban town and a menacing Suffolk manor, The Apparition Phase is an unnerving novel, which, like all the best ghost stories, pushes us repeatedly over the line between rational explanation and inexplicable fear. It asks us to consider what might be lurking in the shadows, and questions what is real and what is simply a trick of the mind – and whether there's really a difference between the two. (Synopsis)
Will Maclean Articles
Written by Fenton on
Stuart 'Saur' Smith was a prolific writer for The Mag throughout the magazine's lifetime. He combined a day job of temporary office jobs in London with a nightlife of trawling the capital's music venues looking for talent. As well as writing about music, he was a session musician who featured on a number of singles in the 90s. Today, Stuart is a Chief Writer for Phonotonal.
Discover More Words