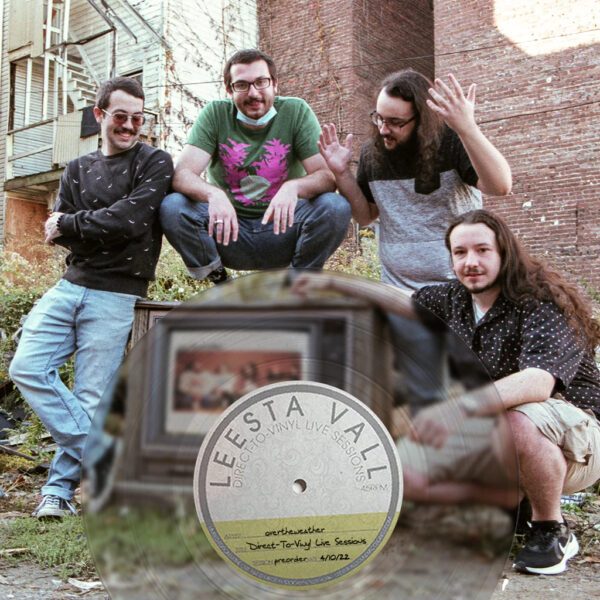 Leesta Vall Discovers Unique Recording Idea
When Brooklyn's Leesta Vall came up with their pandemic concept of shut-in sessions, they probably didn't think that they might have invented a new way for fans to interact with bands and for the artists to make a living from their work.
The Shut-In Sessions idea is an extension of Leesta Vall's direct-to-vinyl concept, which allows fans to pre-order a song of their choice on a unique 7″ lathe-cut vinyl record. The band plays the song live with no overdubs or tracking and the fan gets this unique performance. If 100 fans order songs, the band plays 100 times and 100 unique records are released into the wild. Leesta Vall compares this process to "audio Polaroids" that capture authentic music in a one-of-a-kind format. The Shut-In Sessions have allowed bands to create the same unique experience for fans while they were unable to travel to Brooklyn to use the Leeta Vall studio.
Originally intended to be a temporary concept to get everyone through lockdowns and restrictions, Leesta Vall announced that the Shut-In Sessions would become a permanent feature for the label.
The idea of fans owning a unique recording is awesome, so we had chats with some of the people involved to find out more.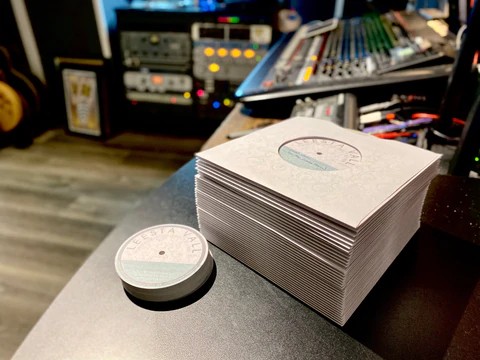 The Band Perspective
We spoke to overtheweather about their forthcoming direct-to-vinyl session with Leesta Vall, to get an inside view on the process. The band was already aware of Leesta Vall following sessions from Jhariah and Courage Mother, but they were super-excited when they were invited to play.
How have your fans reacted to your sessions?
Fan reaction has been really good! Because of the work that goes into the process, the lathes are definitely a little bit pricey, but we've had a good amount of people order them, and a lot of folks are just hyped that we get to go do it.
Is there any stress or pressure about the lack of safety net? You play live and it gets cut straight into vinyl!
I don't think I really feel too much pressure. I think it'll be cool that if there's like, a fuck up, we'll get to be funny and play it off for that specific record.
What's the difference for you between these vinyl sessions and other formats to share your music?
The biggest thing is that we've never had anything pressed to vinyl before. I'm a huge vinyl head myself, so it's always been my dream to have my music available in that format in some capacity. And for fans, not only is it cool that they'll get to own a song on vinyl, but we can also make it as personal as we want, so that's something that we haven't gotten to do either.
We also spoke to label founder Aaron Zimmer to get an inside perspective on the process.
These sessions seem different from a normal recording experience, what does that mean for bands?
Indeed these sessions are quite different than a typical recording session. Of course we do absolutely everything live, but we also favor creative spontaneity over nit-picking every tiny little piece of a performance. And that shows on the records, particularly with bands that'll allow themselves to embrace the concept, not take themselves too seriously, and just be themselves in the moment. The little scars and imperfections in the performances; the stuff that makes it a real live performance….that's the good stuff.
So, what have fans thought of their personal and unique performance?
Fans are always overwhelmingly positive about the records. For one, each is made individually and specifically for every person who orders, complete with a message from the band to the fan right in the audio. Hard not to love that! But moreover, the attributes I mentioned before make these recordings different than the Spotify version fans are used to. Hearing a song they love, knowing it was recorded only for them, and then having it on such a cool format… well that's a pretty special recipe if you ask me.
The direct-to-vinyl and shut-in sessions bring together a unique performance, personalisation for the music lover, and a format that translates this into something that we agree is amazing.
You can request a performance from overtheweather on Leesta Vall or browse other planned sessions on the Leesta Vall website.
Written by Fenton on
Steve Fenton writes in our music, words, and culture categories. He was Editor in Chief for The Mag and covered live music for DV8 Magazine and Spill Magazine. He was often found in venues throughout the UK alongside ace-photographer, Mark Holloway. Steve is also a
technical writer and programmer
and writes
gothic fiction
. Steve studied Psychology at OSC, and Anarchy in the UK: A History of Punk from 1976-1978 at the University of Reading.
Discover More Music