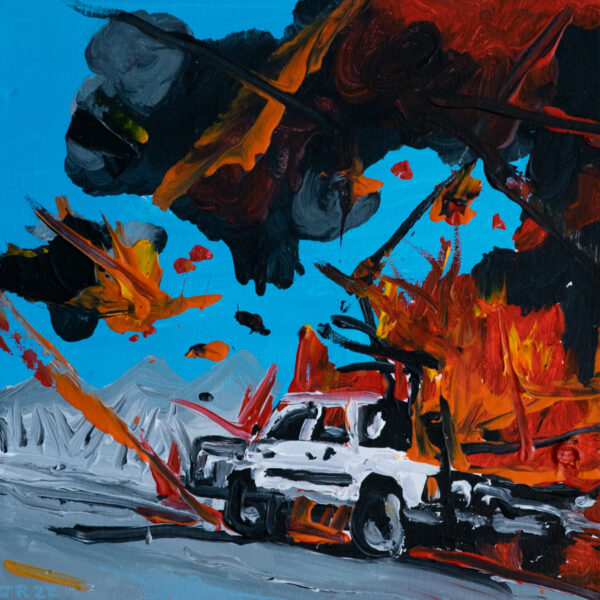 Tough Cuffs
It Got Colder LP
With a syrupy thickness to the sound and some angular full-fry vocals, It Got Colder is part punk, rock, noise, and grunge. Tough Cuffs provide a noisy-sounding album that's actually quite melodic, conjuring Seattle rather than the band's native Pittsburgh… although wait, Pittsburgh is a bit of everything right now so that's an unfair statement. Sonically, though, you might have put your pin in the northwest, rather than the east, too.
Things start with an old-school punk-tinged metal in 'I Hate My Brain', which mixes early and mid-era Therapy styles of alt-metal with a stomping punk beat. Things morph into chunky rock riffs for 'Are You Dead', reminiscent of little-known genius band Kunk. Then we're back to a more punk sound (with a subtle industrial hint and a splash of The Undertones) for 'Genny'.
'Low' is a classic grunge track, the beat pounding as the guitars tear at the speakers with their riff/chord styles. There's even a phased bass section where things are cut back for the second verse that emits a Krist Novoselic flavour.
The title track, 'It Got Colder', is a full-fledged doomy noise track that sits comfortably alongside the likes of Just Mustard with experimental instrumental screams, interspersed with a dark brooding verse. I instantly loved this track, though its contrast to the previous songs is what makes it crack.
This is how the album proceeds, a strangely oddball but coherent mixture of different ideas, fast and scuzzy for 'The Ones You Should Hate', with another Therapy-esque moment in the chorus. Then fuzzy stomp in 'Anhedonia' (a form of emotional flatlining) that matches second-album Placebo sentiment with Molko guitar tones. It's then noisy punk for 'Precious Life' and downbeat grit for 'Valium', which notches up and down the volume scale to create a real drowsy atmosphere.
The album closes with 'Rinse', a song with a great rhythmic stabbing intro and a seemingly single-note verse that builds to a crashing chorus.
You couldn't put together this list of comparable styles into an album if you tried. Tough Cuffs have not only achieved it, they've excelled at the blending process.
Discover More Music