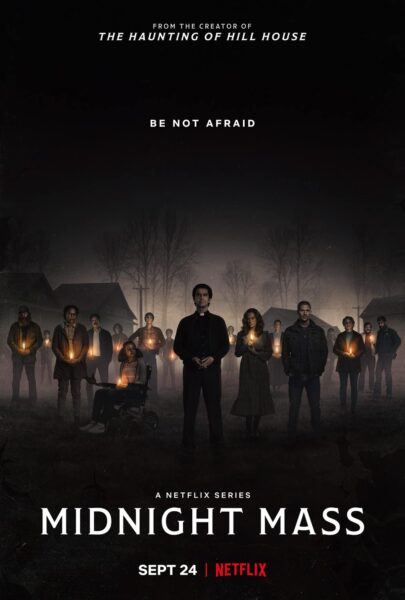 Netflix
Midnight Mass
Midnight Mass is a limited series set on an isolated island. The story is set around the dilapidated, but still functional, church and the young priest who mysteriously takes over. There is something quite reassuring about a limited series. While Stranger Things and Sweet Tooth will continue as long as people want more, it's nice to sit down with a complete story and see it unfold from start to finish.
As miracles manifest in the small town, the existing tensions are amplified and as the aisles fill up with worshippers for the first time in years, a feeling that something is less than holy quickly begins to grow.
The show features two-fishes-and-five-loaves worth of horror tropes (that's enough to feed five thousand). Expect to have all the elements of the on-screen horror genre thrown at you. Animal lovers beware as the first unnatural event involves a beach littered with the bodies of the wild felis catus population. This is a strong statement from any filmed work as the animals usually have to survive!
From this biblical plague of mauled moggies, a string of miracles and portents leads you towards an increasingly inevitable series of revelations. No spoilers here, but this is some really neat genre fiction with multiple ta-da moments that are predicted enough that you will have fun arguing about what's about to happen (the funniest part of any television, right!)
Netflix isn't new to this gig. The alternate version of Shirley Jackson's horror classic, The Haunting of Hill House, had a neat and chilling resolution. The second in the haunting series, The Haunting of Bly Manor, was a more direct reworking of Henry James' classic The Turn of the Screw. There are no plans for a third in this set of stories, but Midnight Mass is equal to their atmosphere, storytelling, and ability to twist.
If you saw the Haunting series, there are familiar faces here, notably Kate Siegel and Henry Thomas who both offer superb performances alongside Zach Gilford. Hamish Linklater provides a pastoral performance as Father Paul, demonstrating the patience of a saint and all the intelligent evangelistic hope and love that you'd expect.
The main characters all arc throughout the story and there are some particularly powerful performances, in particular the Siegel/Gilford dialogue on religion and death, which jams your heart in your throat.
This really is one of the best series I've watched on Netflix and if you liked the other shows mentioned above, you would really love Midnight Mass. Grab some popcorn, make sure your cat is indoors, and enjoy!
Written by Fenton on
Steve Fenton writes in our music, words, and culture categories. He was Editor in Chief for The Mag and covered live music for DV8 Magazine and Spill Magazine. He was often found in venues throughout the UK alongside ace-photographer, Mark Holloway. Steve is also a
technical writer and programmer
and writes
gothic fiction
. Steve studied Psychology at OSC, and Anarchy in the UK: A History of Punk from 1976-1978 at the University of Reading.
Discover More Culture