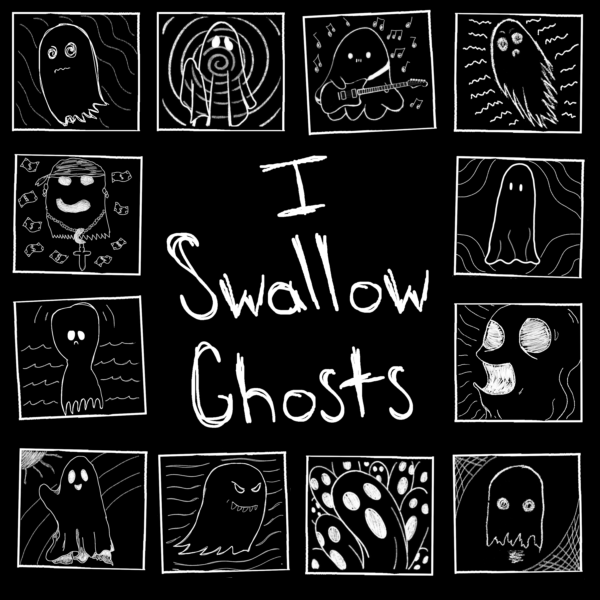 I Swallow Ghosts
I Swallow Ghosts LP
Pittsburgh has been good to us when it comes to emo and alternative bands and the latest in the long line of talent is I Swallow Ghosts. Their eponymous album features a collection of songs including some re-recordings and remasters, so let's dig in and find out what's occurring.
It's a strong start with 'Paris of Northeastern Pennsylvania', a heartfelt and intricate track with a combination of rusty-saw guitar fuzz and a neat rhythm idea that has a Bloc Party feel. The lead guitar sprinkles on some hooks and the vocal jousting at the tail end is exactly the kind of stuff I love.
Once again the guitar has me hooked from the start of 'Local Man Drinks Alone', which has a darker feeling vocal and strong emo chills. The lyrics are direct but also edged with the kind of 'Baby Blue' melancholic anger that made The Early November such a draw.
This stupid hoodie's not at all warm
Cold walk to the watering hole
Where there's enough alcohol to wash this feeling out

This stupid body's not good enough
And I don't know how to make a better one
But I'm good at excuses so who the hell knows
As the album progresses, things move from alt/emo through to a more lofi alt/rock as moments pop up that reminds me of Pavement, but melted into other references that probably ought not to work (and yet…)
There's a switch for 'Saint Anthony', which has a Dylanesque feel with flashes of slacker rock in the delivery and 'Blue Hair Summer Air' is a hazy upbeat alternative track with a bit of Lou Reed storytelling baked in.
There are flashes of Salem in 'First Comes Love, Then Disappointment', though the track develops into more of a crunchy power-pop song than a punk/goth anthem. Then there's the oddball 'If You Have to Ask, You'll Never Know', which could have been penned by Malkmus himself.
'No One Asked You! (It's a Self Evaluation)' points us back in an emo direction, with some indie references and great use of wall of noise moments.
It all ends with 'Tribute to 16 Year Old Me', which has a neat guitar motif that could have been a Spin Doctors jam.
Summing Up I Swallow Ghosts
This album is a great listen. The songs are varied, though the theme throughout is largely consistent. Though some of the songs will be familiar to existing fans, they definitely have a different tone from the original recordings… I checked. There's a dark streak running through these versions that makes them feel weighty and somehow bigger.
If you are new to the band, there's lots to enjoy. For those who have been following along, I think you're going to love this new recording. The album is out on 29th July, so to keep you going for another ten days, here's the older version of 'The Paris of Northeastern Pennsylvania'…
Listen to I Swallow Ghosts – The Paris of Northeastern Pennsylvania.
Written by Fenton on
Steve Fenton writes in our music, words, and culture categories. He was Editor in Chief for The Mag and covered live music for DV8 Magazine and Spill Magazine. He was often found in venues throughout the UK alongside ace-photographer, Mark Holloway. Steve is also a
technical writer and programmer
and writes
gothic fiction
. Steve studied Psychology at OSC, and Anarchy in the UK: A History of Punk from 1976-1978 at the University of Reading.
Discover More Music