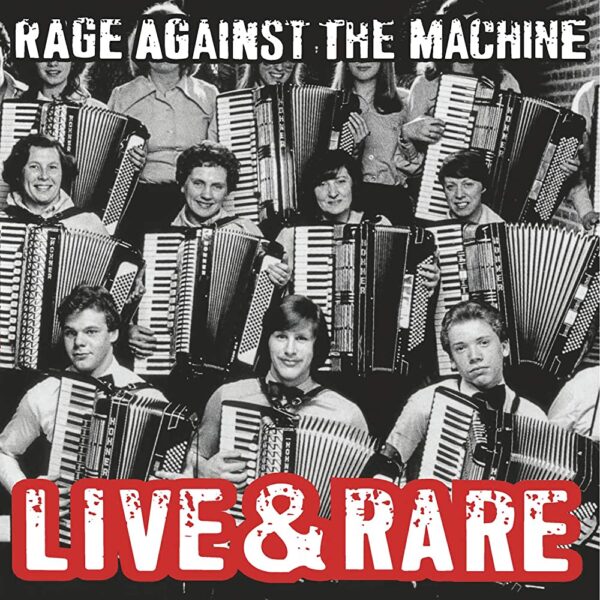 Rage Against the Machine
Live and Rare LP
The digital release of Live and Rare comes some decades after the original 1998 release of this record. It was only available in Japan, so fans elsewhere had to get it as an import. The track listing is a series of official bootleg recordings and two tracks from the American Composite demo album.
With such a well-established band, the songs don't require a huge amount of explanation. There's a solid collection that shows different sides to their sound… like 'Bullet In the Head', 'Take The Power Back', 'Zapata's Blood', and 'Fuck tha Police'.
What should be mentioned instead is the tight delivery and the tension laced throughout the tracks. These aren't just songs, they are angry protests. Zack de la Rocha's vocal performance elevates the already intense musical performance to properly edgy levels. Quite a lot of "older angry music" loses its punch after a decade or two, but there's something special here because it still has that vital energy. Perhaps it's the way they take it all the way down to a bassline and cymbal taps, then all the way back up to a crashing wall of noise… or maybe the message being so dangerously relevant keeps it fiery.
The demo tracks of 'Darkness' and 'Clear the Lane' have a thin and crispy tone, rather than the full audio spectrum of their live performances or studio recordings. They are super-clear and sound amazing, just without the full-bodied explosive edge.
This album is a reminder of one of the most intense and awesome bands of their generation.
About Rage Against the Machine
Rage Against the Machine formed in 1991, with Tim Commerford, Zack de la Rocha, Tom Morello, and Brad Wilk. They sold 16 million records during a career that included a number of breaks. They are currently on a worldwide tour across 20 countries, including Reading and Leeds festivals in the UK.
Rage's Tim Commerford, Tom Morello, and Brad Wilk also teamed up with Chris Cornell to form Audioslave. The band released three albums, picked up three Grammy nominations, and sold eight million records.
Watch RATM – 'Bullet In the Head' Live.
Discover More Music