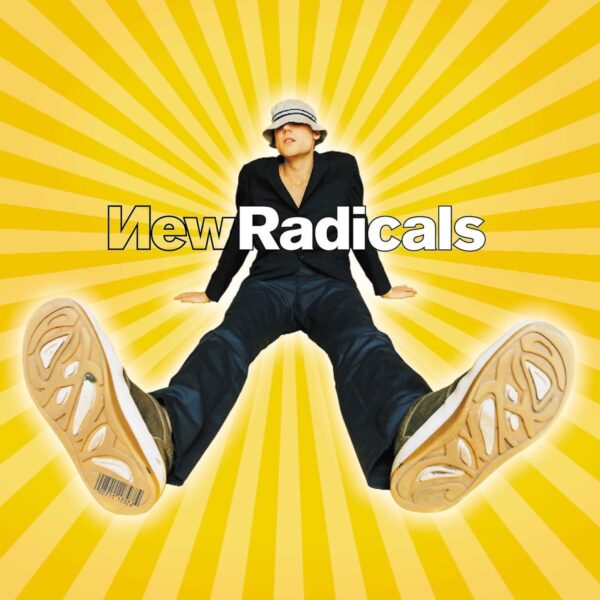 New Radicals
Maybe You've Been Brainwashed Too LP
Released in 1998, things were looking pretty good for New Radicals (or Иew Radicals as they styled it). 'Get What You Give' exploded… and I mean EXPLODED… into what felt like permanent chart residency. But it was over so quickly. New Radicals disbanded before the second single and it all came to a sudden stop. The record is getting a re-issue next month, so we've dusted it off as part of our Attic Finds series.
Despite the feel-good alt-rock/soul sound, Gregg Alexander's lyrics were pretty sharp and became the focus of controversy in what Alexander claimed to be a social experiment. But let's not get ahead of ourselves as there's more to talk about before we get to that.
The album has several songs that explain the flurry of popular love for the New Radicals (the critics didn't universally love this record, but the people did). From the opening summery notes of 'Mother We Just Can't Get Enough', you can tell this record occupies space that practically nothing else did in the late 90s. The funky beat is assisted by bongos and a flurry of clean guitar work. Alexander's voice has great range and is distinctive enough to stand out.
'Jehova Made This Whole Joint For You' is a good place to get deeper into Alexander's highly surgical social lyrics. It's like the contradictions of the world were outlined in neon for him when he wrote his songs. Sure, they sound pretty sweet, but there are some real hard truths here.
So original in her black lipstick
Listening to some obscure band
But isn't she pissed that all the other nonconformists
Listen to that same obscure band?
That's okay, she's helping the enviroment
By sipping pure water and such
Then she screams, "Let's start thinking about the ozone layer"
While tossing out a styrofoam cup
This song also has the line: 'The first step to a successful revolution is destroying all competing revolutionaries.' POW. This is what this album is really about. A part of me keeps coming round to thinking that if you stripped the songs back, you'd have a hardcore punk record. Yes, the album shifted when it came out, but the people who bought it liked the sugar, not the protein.
As a post-grunge alternative record, this album would surely have landed in the hands of people who would have bought it for keeps.
In any case, lyrically, there's no de-militarised zone as the focus is placed on corporations, society, drugs, religion, and how you put the CDs back in the wrong cases (maybe not this one). All these subjects are hit with a similar barrage of heavy arms fire lyrically, despite the songs sounding positively upbeat. Most of the direct social and political stuff is earlier on the record, with the latter half having a few alt-love songs… equally laced with observation.
The album has many good songs, not just the two-and-a-half singles (or the one single that got all the attention). Yes, 'Get What You Give' is a proper landmark song… but the album is greater than one song. But what happened with that massive single?
The 'Get What You Give' Ruckus
The first couple of verses for 'Get What You Give' feel like adolescent rebellion. It's the strange transition from being a polite kid to doing something you know is wrong, like smashing a Mercedes Benz.
The chorus is hopeful. Hang on in there, kid; you got a reason to keep going. Put in the effort, and it will pay off in the end.
Then we get deeper as the next verse lands the line 'the bad rich: God's flying in for your trial!' This is a signal of the burn that's coming, though we get to bounce along a bit more first.
The lyrical section that sparked a frenzy comes from the rhythmic section in the song's second half.
Health insurance rip off lying
FDA big bankers buying
Fake computer crashes dining
Cloning while they're multiplying
This is the kind of stuff the album features heavily, and you can see why this could be one of the best punk records ever made. The punch upwards to corporate America that you don't notice amongst the jangle. It continues…
Fashion shoots with Beck and Hanson,
Courtney Love, and Marilyn Manson
You're all fakes run to your mansions
Come around we'll kick your ass in!
And this is where things get a little sketchy. Ignoring all the smart social commentary, the press really liked the idea of a celeb-war over this section. Each of the named artists found this was quoted back to them… 'how do you feel about this?'
Now, Alexander maintains that the name-dropping was a trap to prove the press would ignore all the political issues the album raises. At the time, he playfully said he loved those artists and wanted to get them exposure.
If it was a trap, it would have needed emptying daily as it worked so effectively. However, Beck and Hanson were chilled about it – Hanson even worked with Alexander a few years later. 'Gregg's definitely a character, but he's a cool guy,' Zac Hanson said in an interview with Christina Fuoco in LiveDaily in 2004.
Manson was a little more irked than Hanson, claiming he was annoyed to be added to a list alongside Courtney Love. 'I'll crack his skull open if I see him,' he told MTV. He's probably angrier about other stuff these days.
In any case, whether the lyrics were a planned trap or not – it's fair to say there's way more interesting stuff going on in the lyrics than the music press paid attention to. We apologise on behalf of the whole industry, which I'm sure I'm allowed to do.
It Ended Quickly
So the band formed in 1997, released the album and one single in 1998, toured a whole lot, and then disbanded in 1999 (before the second single dropped). What the heck happened?
Alexander announced the breakup with a statement that said he had accomplished his goals with the record and was tired of all the touring and promotion. 'the fatigue of travelling & getting three hours sleep in a different hotel every night to do boring hanging and schmoozing with radio and retail people, is definitely not for me,' and he had 'lost interest in fronting a one-hit wonder'.
It is possible the band would have cast off the one-hit stigma if they'd continued promoting the other songs. With the band effectively buried, the second single, 'Someday We'll Know', didn't get a huge audience. The third single, which was likely to be 'I Don't Wanna Die Anymore', was never released.
Despite the accelerated rise and fall of the band, Alexander continued in the industry, writing and producing music for other artists… presumably so the they could handle all the schmoozing of radio and retail VIPs on three hours sleep.
Re-Issue
The album is getting a re-issue next month as a double LP vinyl, which you pre-order from Banquet Records.
Discover More Music