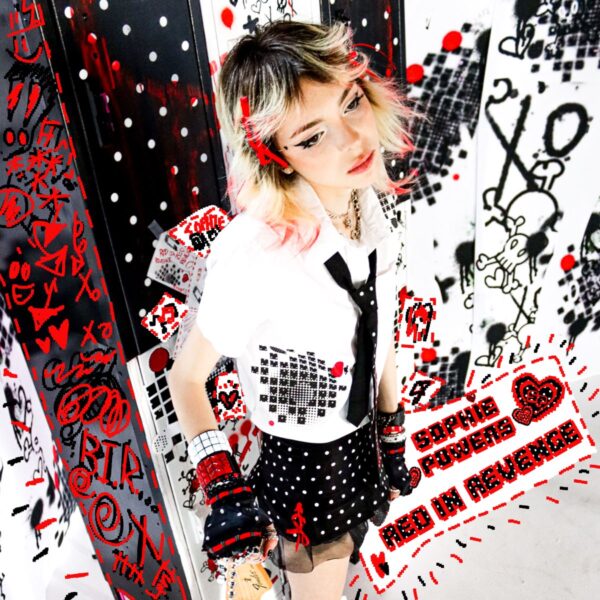 Sophie Powers
Red in Revenge EP
Blending guitar fuzz and pop synth, Sophie Powers' Red in Revenge is a very nearly album-length hyperpop record with seven insanely catchy tracks.
If you haven't come across hyperpop, it is a spin-out from the genre-bending trend that merged metal with sweet-pop to create high-contrast tracks that were visceral and candy-coated all at once. In the case of Sophie Powers, the pop tones are merged into more of a pop/punk guitar sound to create something less angular but no less impactful.
So, thinking of Poppy, Charlie XCX, and Papa Roach… let's see where Red in Revenge takes us.
'Clearview' is a statement opener, with the synth motif maxed in the intro and then relenting just long enough for the vocal to take the lead. It's got a solid rock beat and guitars that chug submissively. Powers delivers the vocals with a good level of punch, the verse is melodic and rhythmic while the chorus has a definite stomp. NOAHFINNCE takes a turn for the second verse, and there's a long outro (half of which comes across as a bridge, except there's no land on the far side).
This isn't the only collab on the record as $atori Zoom, DE'WAYNE, and Kellin Quinn (Sleeping With Sirens) all get a run-out.
Anyways, onwards! 'Life Goes On' is a fast-paced track with a nice rhythmic push and a great baritone guitar line. The chorus is more distinctive in this track, a racing certainty to get stuck in your head. The keyboards provide less of the hooks in this track, they take on a more fuzzy filler role.
They come back strong in 'Breakup On The Weekend', which starts the run of [E] warnings that floods the middle of the album. Mother would be angry if she heard me listening to such filth, though having strained my ears, I'm at a loss to explain what warranted the label. Anyhows, I like this song. A lot.
There's certainly a bit of Poppy shining through in the throbbing bass that pumps in 'See Me!!' This song's darker twist shimmies the record into a new space. The bridge is one of my favourite parts of the EP.
'U Love It' (featuring $atori Zoom) is a stomper, with the guitars stabbing chugging chords into the mix. On this occasion, the explicit part is audible – especially at the volume I'm playing the record, which I consider to be the correct level as playing it lower means I can hear my windows rattling.
DE'WAYNE features on 'Greed', which develops into a funky version of Limp Bizkit with extra dancefloor vibes. The bounce in this track is commendable, and the 'I want it I want it all right now' line is super hooky. DE'WAYNE's vocal works superbly on this record.
It's a speedy electronic track to close with '1 Thing', featuring Kellin Quinn. The song has very different production to the rest of the songs and the tonal shift takes a bit of getting used to. However, the song is melodic pop with some strong musical moments.
Red in Revenge will appeal to fans of crossover sounds. A little less jarring than some of the heavier examples and filled with melodic pop moments. I'm a big fan of 'Clearview', and there's something special in 'Breakup On The Weekend' and 'Greed'.
Watch Sophie Powers (feat. NOAHFINNCE) – Clearview.
Who is Sophie Powers?
Toronto-bord Powers has been playing music from an early age while navigating the modern age of surveillance capitalism. During the pandemic, she decamped to Los Angeles and, living with other musicians, found her voice. Using everyday sounds, like barking dogs and videogames, Sophie began to forge her sound.
Red in Revenge is Sophie's first EP and captures many of the singles to date ('Lonely Army' and 'Life Goes On' aren't on there, and her cover of 'Heart Shaped Box' is also a stand-alone single). Keep up to date with music and tour information on Sophie Powers' website.
Watch Sophie Powers – Break Up On The Weekend.
Sophie Powers Articles
Discover More Music