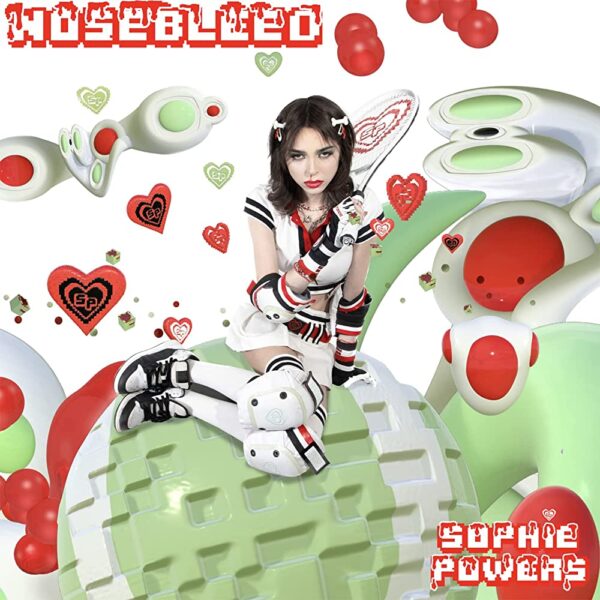 Sophie Powers
Nosebleed
Sophie Powers is back with a popcore classic. Thick beats, glitch synth, and a compelling vocal delivery that drives nihilistic lyrics.
The song splashes paint on a canvas to create a picture of urban hopelessness, striving for the hollow achievements of modern society. 'Yeah, we don't care at all,' cries the chorus. 'We feel nothing, even though we feel it all'.
The song isn't as depressing as it sounds. It's got a lethargic style, for sure, but the beat and synth randomness keep it interesting. Ultimately, the song lands for all those lonely folks in the big cities. Blinding neon lights doth not a life make.
A slice of highly listenable philosophical pessimism. Love it.
Watch Sophie Powers – 'Nosebleed'.
Nosebleed Lyrics
Bright lights, big city, long nights
Locked up by myself, but it's alright
Never really seen the big picture, so I'll paint one
Hope the aliens come and get me with their ray guns

'Cause I don't feel like I belong here
And I know something's really wrong here
Every day's the same, but it's cool, I ain't stressin'
Stop tryna hold my hand, you couldn't hold my attention

Wake up, study, good grades, money
Look good, party, perfect body
Living, laughing, loving, happy
We know what you want, but…

Yeah, we don't care at all
Just another phase and another adderall
Yeah, we don't care at all
And we feel nothing, even though we feel it all

We stay running off of no sleep
Stay running like a nosebleed
Yeah, we don't care at all
And we feel nothing, even though we feel it all

Nihilistic, walking through the mall
Smile so fake, tryna keep it natural
Taking these meds, but we eatin' natural
Take a deep breath, tryna keep it rational

'Cause I don't feel like I belong here
And I know something's really wrong here
Cheerio, serial thinker, depressed
Circling the drain but it's all in my head like

Wake up, study, good grades, money
Look good, party, perfect body
Living, laughing, loving, happy
We know what you want, but…

Yeah, we don't care at all
Just another phase and another adderall
Yeah, we don't care at all
And we feel nothing, even though we feel it all

We stay running off of no sleep
Stay running like a nose bleed
Yeah, we don't care at all
And we feel nothing, even though we feel it all

No, we don't really care, no
No, we don't really care
No, we don't really care, no, no
No, we don't really care
Sophie Powers Articles
Discover More Music