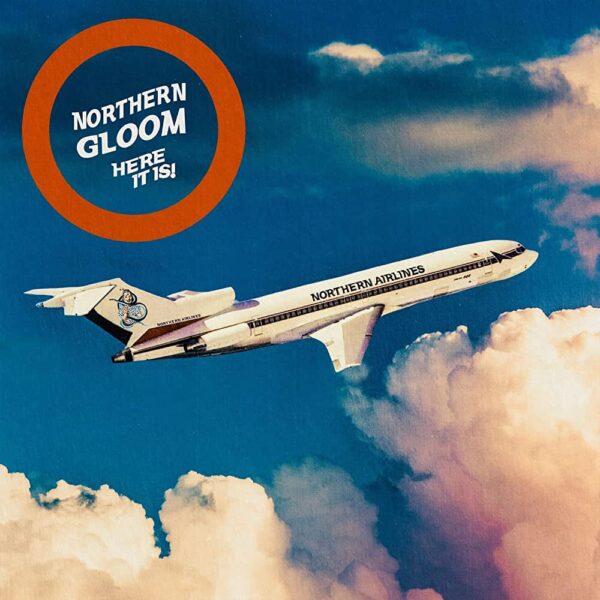 Northern Gloom
Here It Is! LP
Get ready for a generous slice of cosmic post-punk from Pennsylvania's Northern Gloom, who just released their second long player, Here It Is!
There are thirteen tracks on the record, two of which are on-theme interludes ('A Message From Your Captain' and 'The Vegan Meal' – both are well-executed short dramatisations). For the eleven musical entries, things find creative ways to express the band's weighty sound.
Imagine one of the original new musick or new wave bands – Joy Division or Killing Joke – but more dense and substantial in terms of tone. That's the general theme here, with the bass and drums offering creative sound beds for the guitar to swarm with chords and motifs.
The bass often journeys up into near-guitar territory, allowing the band to create four-piece moments where two riffs swirl around each other before the bass drops back down to kick the lower end, like in 'Here Comes the News'.
They also masterfully lock in and out of the beat to divide songs with staccato moments, which is used to great effect in 'Super Turbo'. A moment of complete synchronisation before the instruments return to their individual tasks.
The light and breezy sounds come in 'Extremely High' and 'Fruit', whose airy tones provide great contrast amongst the more weight tones that surround them. In these songs, Stipe's vocal has a bit more space, so although it often extends a note, you'll notice it more here.
This band's strong sound is a key driver for this album. The songs themselves are excellent, though they are manifestations of the experimentation around the tonal qualities of the band. This, for me, is a strong point. It's not about the hooks or chorus melody. It is instead more linked to atmosphere and mood.
The Origins of Here It Is!
When announcing the album, Michael James Stipe said:
This album was written during the worst parts of covid and, admittedly, during some of the hardest things I've gone through in my personal life, but it is a very joyous record. My bandmates Cory Paternoster and Brian Doherty poured their hearts out into this with me and helped to make something that feels very spiritual.
The cover art image of an airplane was used to generate '…extended periods of elation…' that the band turned into the songs for the album. They imagined flying '…above the negative nonsense happening on the ground'. The negativity referred to is the mob of Internet Warriors whose sole contribution is to sit back and snark via their phones.
This record is a big middle finger to that. People don't suck, you suck if you enjoy tearing other people down for sport.
Northern Gloom Articles
Written by Fenton on
Steve Fenton writes in our music, words, and culture categories. He was Editor in Chief for The Mag and covered live music for DV8 Magazine and Spill Magazine. He was often found in venues throughout the UK alongside ace-photographer, Mark Holloway. Steve is also a
technical writer and programmer
and writes
gothic fiction
. Steve studied Psychology at OSC, and Anarchy in the UK: A History of Punk from 1976-1978 at the University of Reading.
Discover More Music