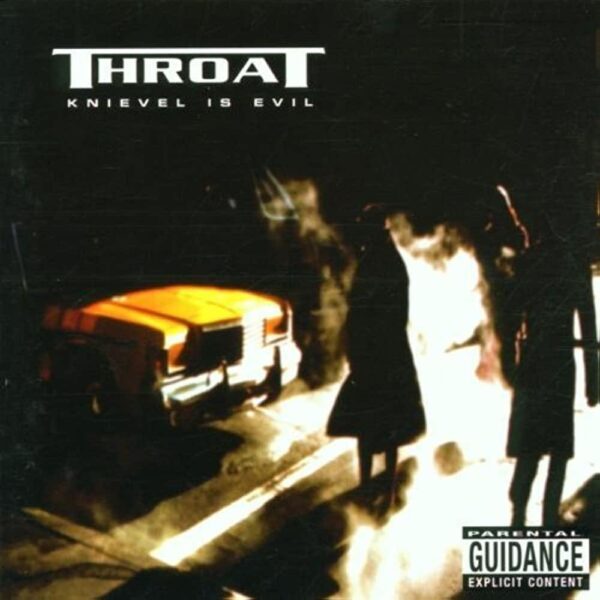 Throat
Knievel is Evil LP
Throat released Knievel is Evil all the way back in 2002 and what a debut album this was. We've dusted off our copy so we can remind ourselves what a great record they gave us twenty years ago.
The opening track 'Cleaver' is punchy and sets the scene for the record. It has a rhythmic verse and melodic chorus, reaching the fingers of inspiration to touch both sides of the Atlantic (even though their hometown of Larne sits on the east coast of Ireland rather than the Atlantic side). This style continues in 'Soho', adding a sticky guitar motif to the chorus. We have a hard-hitting rock sound with a sense of hooks and melody that surfaces to lift each chorus.
Despite this clear theme, which continues in 'Charlie Su', the band has found plenty of ways to deploy their chops. This means many of the album tracks creep onto your playlist as they offer different moments and twists that make this album more than a little bit brilliant.
There's more of a dark grind to 'Nerves'. The bass keeps the rhymic flavour, with the guitars providing stabs in the verse. The chorus is less melodic but more anthemic. They then notch up the pace for the riffy 'Captain Bastard' and the choppy 'Breakdance'. Darker still is 'Spent', a real wormhole with swimmy elements that make the straight sections and riffs land powerfully.
It's no coincidence 'Gleason' gives Therapy? flashbacks, as Andy Cairns features on this track. It's fair to say there is some intersection between the bands through the riffs, the way the bass punches through, and from the creative drumming – though Throat are more cousins than twins to their fellow Larne-spawned residents.
On to 'Circus Trick', which has a neat intro that morphs into a smouldering track. This song is the one that sticks in a pin in the early 2000s, reminiscent of the best songs on Thirst's From Mouth to Skin. This emotional section continues into 'Sonnys Hired Killer' before the album provides an alternative take on 'Crazy Horses'.
It all closes with the excellent 'Faster', with riffs and a stomping beat. Any band that can put a song this good as track twelve is doing something great – and Throat achieved a great thing with this album.
It's two decades since this was released, and it's still an awesome listen. Some records possess a quality that survives the twists and turns of music. It tends to be bands that forge something unique enough that it still sounds original even after all this time.
Check out one of the songs below, in glorious 4:3 aspect ratio, and see for yourselves how good this album is.
Written by Fenton on
Steve Fenton writes in our music, words, and culture categories. He was Editor in Chief for The Mag and covered live music for DV8 Magazine and Spill Magazine. He was often found in venues throughout the UK alongside ace-photographer, Mark Holloway. Steve is also a
technical writer and programmer
and writes
gothic fiction
. Steve studied Psychology at OSC, and Anarchy in the UK: A History of Punk from 1976-1978 at the University of Reading.
Discover More Music